Samuel Proffitt's downbeat, emotionally sophisticated tracks hint at a melancholic disposition. He doesn't disagree. "Among my friends, it's such a joke—Emo-Sam," laughs Proffitt of his reputation as a moody creative. On his release, Shades, cloudy beats drift across synth-soaked skies. In some ways, the EP resembles the literature and art he pores over in his academic life.
The atmosphere is perfect for introspection about death, dark matter, and nothingness. Call it bleakcore. Above all, Samuel Proffitt's music is hauntingly beautiful. In a sea of bedroom producers, the artist's approach stands out from the Instagram hordes. He spoke about everything from early screamo aspirations to recent rhythmic inspiration via the TR-808.
Eclectic Influences
You grew up in Houston. What was Texas like for a budding electronic producer to come of age?
I never created any electronic music until university. When I was growing up all I did was go to shows and play guitar. My entire childhood, I wanted to be in a screamo band. There was something so visceral and real. Going to shows you felt like you were part of something special.
What's inspiring you right now?
I'm about to start work on my debut LP which is very exciting. So, I've been putting together a playlist to put me in that space. It's a mix of The National, Miles Davis, Radiohead, Little Dragon, and Rufus Wainwright. But there's still Bring Me the Horizon and the Used. There's something about that time I'll never escape.
Academia and Electronica
Tell us about the Ph.D. you're pursuing at Brown University.
I'm in my fifth year. I need multiple things in my life to keep me moving forward. Between undergrad and graduate school, I worked on music for three years outside Mexico City and in British Columbia. I did lots of cool things—a few Daytrotter sessions—but I felt stagnant. 
So I decided to continue studying Russian literature. Now my focus is Russian nonconformist underground art and activism in the post-Soviet sphere. I also delve into photography from the avant-garde through the end of the Soviet Union.
What led you to Russian literature?
It was the classic thing. When I was in high school, I read Dostoevsky's Notes from the Underground and Crime and Punishment. I'm adopted and have the most loving family in the world. Still, I felt that there was something inside me I couldn't see in other people. Literature and music were a search to find that voice.
When I read those first few novels, I realized they're not dark for the sake of being dark. There's a sense of pervasive existential dread and trying to understand this existence.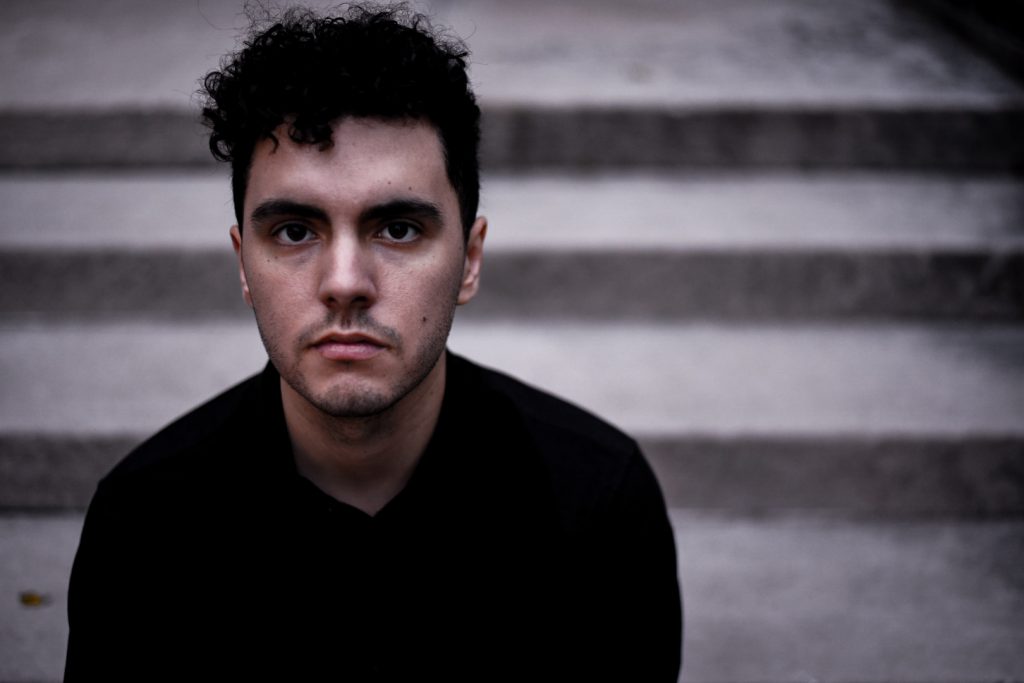 In addition to your academic pursuits, do you write prose as well?
I'm finishing up a few articles plus my dissertation. I also do fragments. The dissertation and album are forcing me to write longer, more cohesive narratives.
Have you visited Russia?
I speak Russian and usually live there three months out of the year. I'll stay in St. Petersburg, then spend a few weeks in Moscow.
The Creative Process
How do songs come about for you? 
I never write based on listening to something. The discussion of genres is overwrought and passé. When I start writing, I have no idea what it's going to sound like. Instead, I'll read something and feel a need to try and express that. It's always like that or something personal in my life I've witnessed.
Do you begin with a melodic fragment or write through studio experimentation?
Almost every song I've written started at the keyboard and grew. I've always envied friends who can work with sounds and go from there. When I write, I know when something is worth pursuing and spending time on. There are exceptions, but if it doesn't feel good after the first day, it takes a backseat. 
Inspiration from the TR-808
How is Roland Cloud useful in your creative process?
I'm fine with melodies, theory, and building a cinematic universe. Percussion is an area I have more trouble with. Experimenting with the TR-808 has been really helpful. The sounds are amazing, but it's also inspired me to try patterns I wouldn't think of.
For the tenth anniversary of Transatlanticism, Death Cab for Cutie released the demos. They're so good. Ben Gibbard did them on his own, and the vast majority is with a drum machine. I'm trying to take that into my writing process.
Collaborative Effort
Do you see Samuel Proffitt as more of a collaborative or solo project?
There have been exceptions, like Josh Jacobson, but the vast majority I do by myself. With Yoke Lore, he sent demos he recorded on his phone or computer. This is classic, but I went to a cabin in Maine on my birthday and locked myself away. I took his vocals and created the song. However, I think I've made a paradigm shift in that now I'm comfortable working with specific people.
Shades was the first time I ever worked with an engineer. I came to Ariel Loh with some of the songs ninety-five percent completed. Then we would talk about how to get that last five or ten percent. I was so happy to get input from someone I respect.
Was that in a room together?
With Ariel, I went for a week in the fall and then a week in the winter to his apartment in Astoria. We would work for a week straight, 12 hours a day. Because of Nettwerk, I could do that. I hadn't had that option.
A Powerful Partnership
How did your deal with Nettwerk come about?
It's a pretty crazy story. New Year's 2018, I was in Austin visiting a friend. A few of us were hanging out and at 4:00 a.m., I played my EP for one of their friends, Tayla, who happened to be in the music business. She seemed to like it, but I didn't think anything of it.
Two weeks later, I got an email from Tom Gates. We met up in New York, got ramen, and went to the Whitney. We just hit it off. The turnaround with the label was extremely quick, which I was not expecting.
It seems they appreciate that you're a full-time student as well as a musician.
I'm very happy that they have accepted me. Tom is easily my favorite person in the music industry. He's one of the most helpful, interesting human beings. It's reinvigorated my drive, which I needed.
The Changed Landscape
You must be having interesting conversations about promoting a new Samuel Proffitt album considering the state of the world.
I played my last show in L.A. on March 1st, and then a week later, everything shut. It was my first L.A. headline which was exciting. We had an incredible custom lighting rig synched to the songs. Unfortunately, I was planning on taking some time off from school to tour. Obviously, that's not happening.
To the chagrin of my label and publicist, I'm not a huge social media person. I'm not the best at self-promotion. The only reason I have it is because I have to. Luckily, I'm grounded because I have two lives, so I put my effort into both.
I started a weekly Instagram livestock called Red Talks about Russian contemporary art. We did that for about a month. Then everything got crazy and became harder. Also, I do translation work for some major contemporary art museums in Russia.
Moody Disposition
Samuel Proffitt releases are often described as dark and moody. Do you think that describes you as a person?
I'm a very outgoing person. I feel comfortable in any situation talking with anyone about anything. But my worldview is tinged by some darker currents.
Are there any subgenres or communities you've found yourself diving into?
The only electronic music I really listen to is Russian. I like seeing what's outside the US music scene. It's like they're reforming it to fit their purposes. They're not regurgitating what's happening in the U.S. but creating something utterly new.