The role of a drum tech is one which requires patience, precision, and passion. Lorne Wheaton has these attributes in great supply. He's a true road warrior, with a resume that includes Alex Van Halen and Eric Singer of KISS. Still, it's his lengthy tenure with Neil Peart that makes him a fan favorite in the Rush universe. We're honored to present this exclusive interview.
Touring with Rock's Finest
You've worked with many of music's most renowned players, from Steve Smith and Joey Kramer to Mickey Curry, Eric Singer, and Alex Van Halen. What qualities, in your opinion, make a drummer stand out from the pack?
All of those drummers are very different in work ethic and style, so it's kind of a difficult question to answer. Steve has endless chops. Mickey grooves like very few others. Joey has a job to do and is an original member. Alex is pretty much the same with his position being the backbone of a rock band.
How do you change your approach to your job depending on the musicians you are working with?
Once I'm hired by the artist/drummer, hopefully, we have some time together in a rehearsal or a day alone with each other. That's the perfect way to adapt and maybe get some tips on what they expect from their tech. And pay attention to everything we discuss.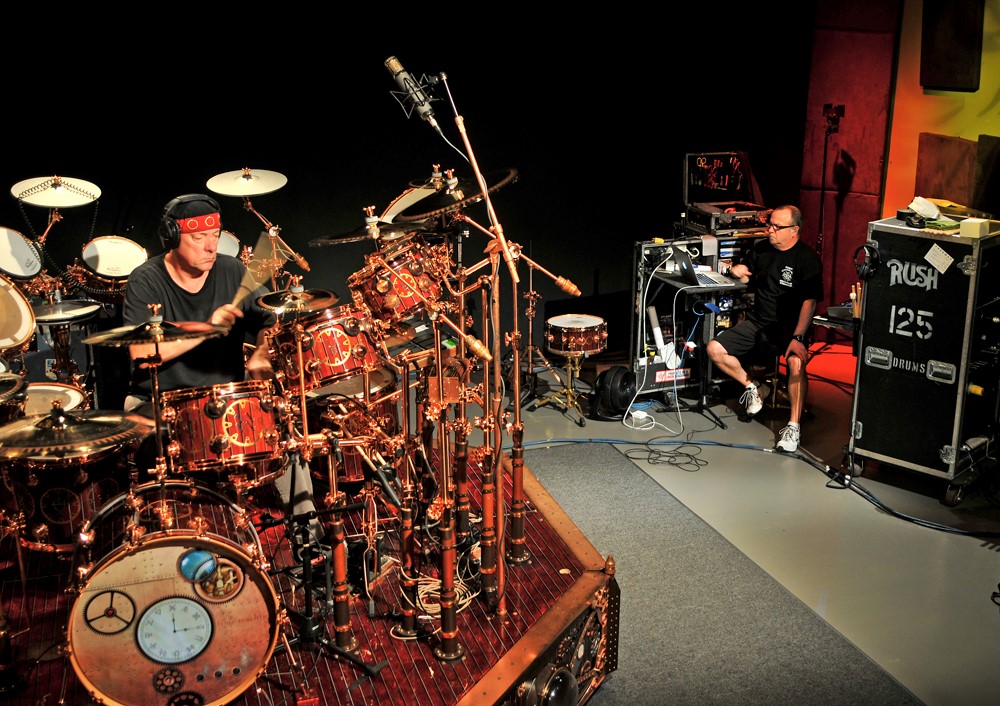 Beginning with Rush and Neil Peart
When did your relationship with Neil Peart begin and how did it develop over the years?
I received a call from the band's management to come and record a Rush record in 2001. This was his first record back on the drum throne since 1998. I knew them for many years prior, so it was like I was back with family. We hit it off like old friends. We had mutual respect, and that's half the battle.
After logging so many years with Rush and Neil, you watched them go through so many different phases and incarnations. Can you share a few examples of tours that stand out, where Geddy, Alex, and Neil were firing on all cylinders?
I would say the R40 2015 Tour, their final was pretty much epic every show. Just ask any fan who witnessed it. The Clockwork Angels tour with the string ensemble was cool as well.
The Drum Tech Trade
What are some of the specific duties of a drum tech that might surprise folks who don't know that much about the job?
Not surprising: you set up, tune, maintain, clean, wire, and anything else that goes along with the gig. You also work with many others out on tour, including your fellow touring crew and the local stagehands. You have to get along with others. Otherwise, it can be a very long tour.
Neil had incredible kits and a precise setup. Were there any challenges from night to night depending on the venue you were playing?
Usually, the challenge comes from not having the time to do your gig properly, due to time restraints and the flow of all other production departments. If the lights take longer to get up and in the air, that messes with me because I set up under them. If the load-in gets delayed, that pushes all department routines back.
You learn to adapt and play well with others. I was fortunate with Neil and the drum rehearsals we would do before Rush tours—normally a whole month in a studio connected to Drum Workshop. Neil would work on getting himself in playing form.
I would tweak programming, day to day drum-kit maintenance, and adjustments as we moved through the rehearsals. Make drum looms, cables, etc. When I left for the next rehearsals, this time with the band, I was pretty much ready for the tour.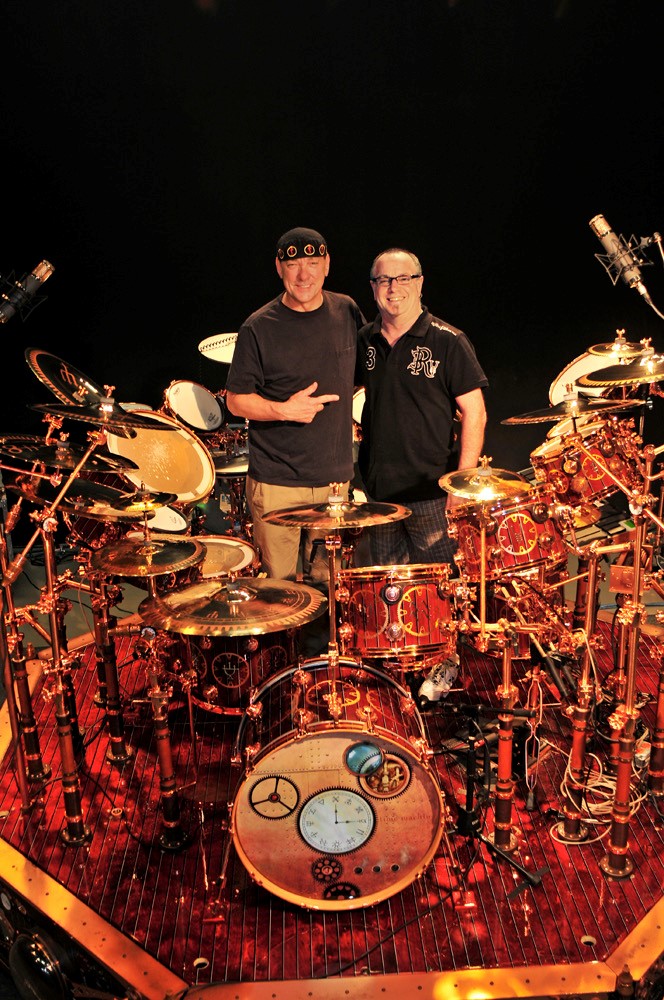 Man Meets Machine
As a longtime drum tech for Rush, how did the integration of hybrid drums, like the Roland Time Machine kit, change your work and the band's sound?
Neil had already added E drums/triggered samples back in the mid-'80s, so the only thing I added to the mix was Roland V-Drums. He was already using a Roland XV-5080 as his sampler.
Bringing in the V-Drums helped simplify the whole operation in the end. Also, the fact that I could load the V-Pads into DW shells after the first tour using them, really made the kit look slick.
Are there particular Neil Peart drum performances which you consider definitive, and which people should listen to demonstrate why "the Professor" is so revered?
All of them. His brain worked like no other drummer I've ever worked with. A lot of drummers might think they can cover his parts, but you must come up with those parts first. And he did that. The process of him rehearsing his drum solos was always fun to watch—from my perspective. Not so much from his. It was tough on him physically, especially in later years.
How did you get the nickname "Gump" to Neil's "Bubba"? Beyond the Forrest Gump reference, I wondered if there was a story there?
Geddy Lee back in the '70s. Being a Canadian, hockey has always been my favorite sport. There was a goaltender for the Montreal Canadians back in the '60s named Lorne 'Gump" Worsley. Sticks to this day.