There's no band quite like Boris. Certainly, no act in heavy music displays anything approaching the Tokyo trio's effortless mastery of genres from doom and drone to dream pop and psychedelia. Taking their cue from the Melvins—whose track from 1989's Bullhead inspired their moniker—Boris trudges its contrary path. Drummer Atsuo, guitarist/bassist Takeshi, and guitarist/keyboardist Wata continue to add to their eclectic discography—releasing album after album of boundary-pushing experimental sounds.
However, Boris' most recent release, NO, is more than a new collection of songs. NO is a statement of purpose. The album sees the band responding to the challenging moment our world faces with eleven tracks of uncompromising music. Even for a group as eclectic as this one, NO is dizzying in its sonic diversity. Leaning heavily into hardcore punk as well as the thick riffing audiences expect of Boris, it's a perfect postcard from 2020.
In typical Boris fashion, NO even comes with a manifesto of sorts. In it, the band is specific about the current moment. "All kinds of anxieties, fear, sadness, anger, and hatred have arisen to drive the world apart," the statement says. "Everyone is in a process of trial and error, doing what they can to live."
At the end of the statement, the band leaves us with a glimpse at a hopeful future: "When we're able to travel again, it will be proof that the world has moved forward. We pray for the day when we can share the same time and place again."
Until that time, we present this exclusive interview with Takeshi of Boris.
On NO
After the atmospheric and moody LØVE & EVØL, NO features some of the bleakest music in Boris' catalog. It's hard not to equate this with the challenges in the world. How did NO come about? Was it recorded during the time of COVID-19?
We began production for this album on March 24th. Following, LφVE & EVφL world tour that had been ongoing since 2019, the Japan tour ended in February. At the beginning of March, we were in Melbourne for about a week to perform at an Australian festival. 
In Australia, we'd yet to see any impacts of coronavirus. In Japan, most people were wearing masks, but in Melbourne, we didn't see any. That gap remains vivid in my memories. By the time we returned, most venues and theaters had closed by their own choice.
We were lucky that we'd placed a "hold" on our studio. All we could do was to keep creating work. In a situation where all cultural and artistic activities slowed down, we questioned ourselves about what we can do and what we should do. As we felt the urgent situation around us, we kept making the album.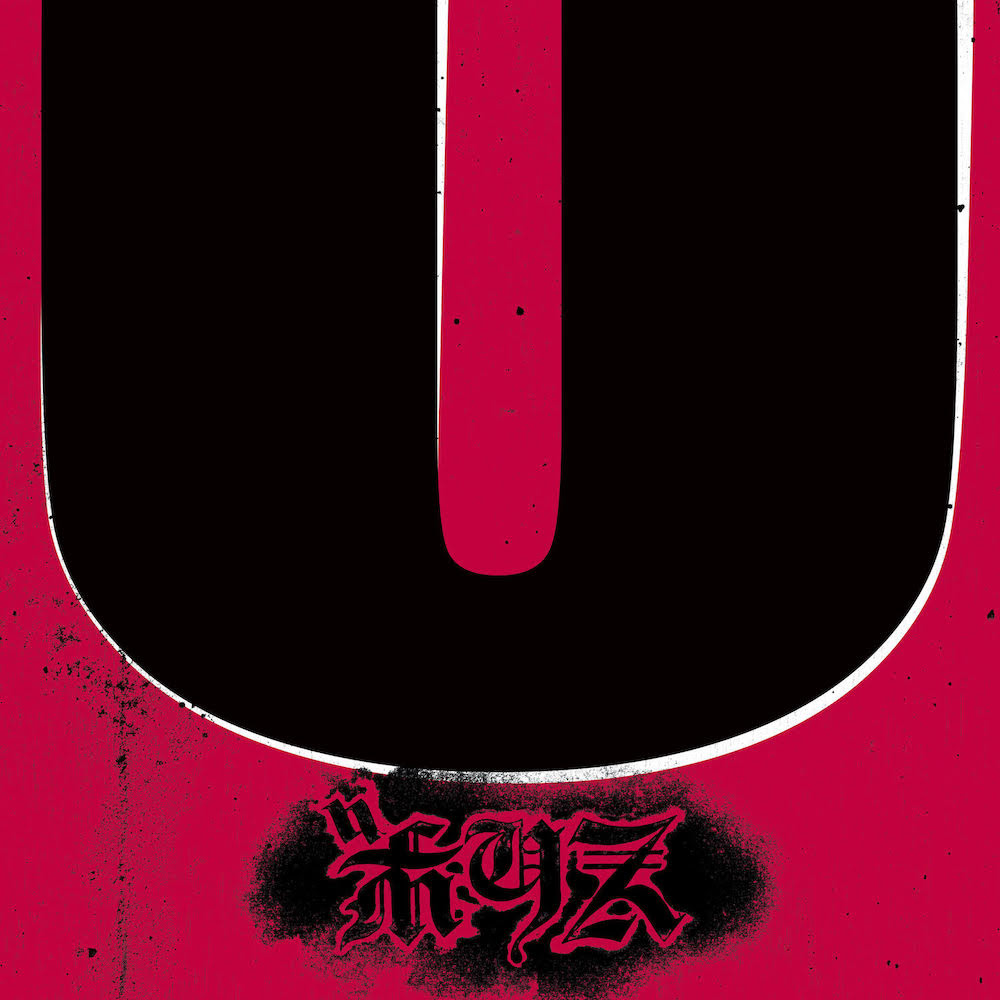 As usual with Boris, there is no way to categorize the music on NO. A track like "HxCxHxC -Parforation Line" has dreamy overtones with double-time drums and Keith Moon style fills. Does the band plan to combine sounds in unpredictable ways, or does it happen naturally?
Only for "HxCxHxC -Parforation Line-", we used a recording from 2012 as a basis. "Kiki no Ue" was a song from around 1999 that we recorded for the first time. "Fundamental Error" is a song by the Japanese Hardcore band Gudon that we covered. Others are newly-born songs.
There are times when songs from different generations suddenly gather in one album. The details of the arrangement between songs come from their relationship to the other songs. 
The songs tell us how to arrange the direction. When we produce albums, we don't write songs ahead of time or have each member bring demo tracks. We constantly repeat jam sessions. Within those sessions, "song-ish things" appear, those sounds guide us, and we're able to see the direction that the songs are heading. By listening to the words of the sounds and "what they want to become," we're able to naturally create these songs.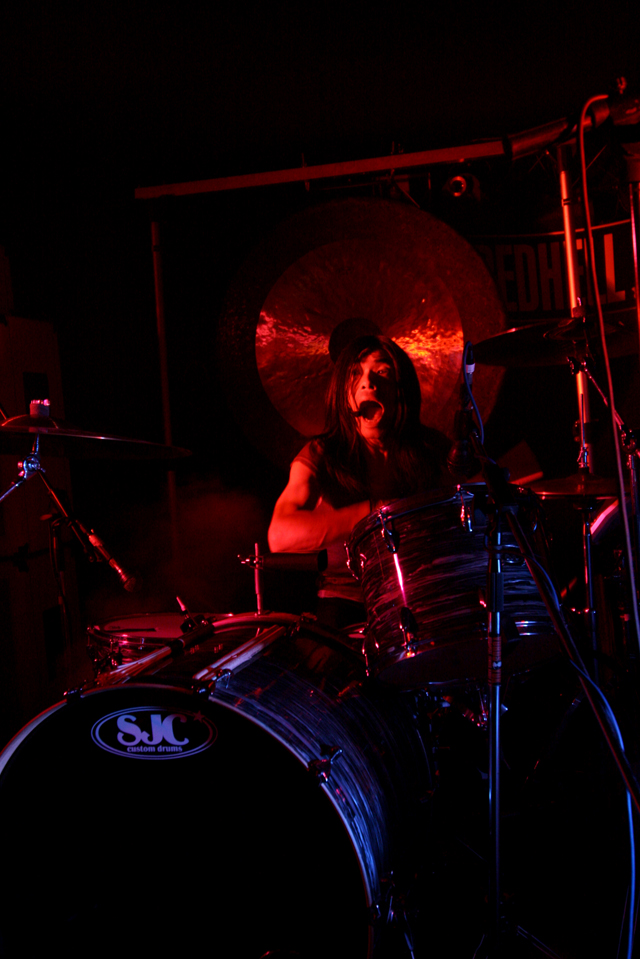 How would you define the dynamic between the three members of Boris? What does each person bring to the band, and how do they interact with each other to create the art you make?
Atsuo presents the skeleton of the work and sees everything as a whole from a bird's eye view, and gives the song depth and strength. I derive a concrete melody and words and draw out the outline of the song. 
It's as though Wata wears music like clothing and dances. Since she isn't as vocal, she speaks and talks loudly through the guitar. Her internal words provide feedback and long sustained notes, giving the song various expressions. All three of us have different musical tastes. We let go of our ego as players and begin creating our work with a completely flat, neutral mind. This is how each work triggers the birth of new effects and expressions.
The band's statement for NO says, "Everything begins with questioning and denying oneself. That is the proper stance for people to adopt." Does this apply to Boris' creative process as well?
Yeah. Every time I create work, I first deny my "accustomedness" or "blindness" and lean my ears towards the words that speak to me. Carefully. I must have a neutral and flat attitude so we don't overlook the future. If we had to make a rule for recording sessions, it's to seal the methods and equipment that we're used to. 
We do fuzz-free recordings too. It's also important to get tired of our methods, realize that we're tired of it. I think we should not narrow down the possibilities of music unconsciously based on the artists' ego or what they're accustomed to.
There are some of the fastest most blistering Boris tracks ever on NO. There is almost a Bad Brains-style to "Lust" and "Kikinoue" is blinding metal when it kicks in. What are the physical challenges of playing fast versus slow?
This might be my first time hearing the interpretation that "Lust" has a Bad Brains-style feel. I love Bad Brains, so this type of insight makes me happy. By the way, my friend told me that it sounded like "Japanese heavy metal." I don't really feel much difference playing fast or playing slow. I might be more careful about my picking hand strength. 
It may be harder for Atsuo since the form and amount of muscle for drumming is really different depending on a fast song or slow song. This time, recording the vocals was the most physically tiring thing for the both of us. We recorded as though we were devoting our whole bodies and souls.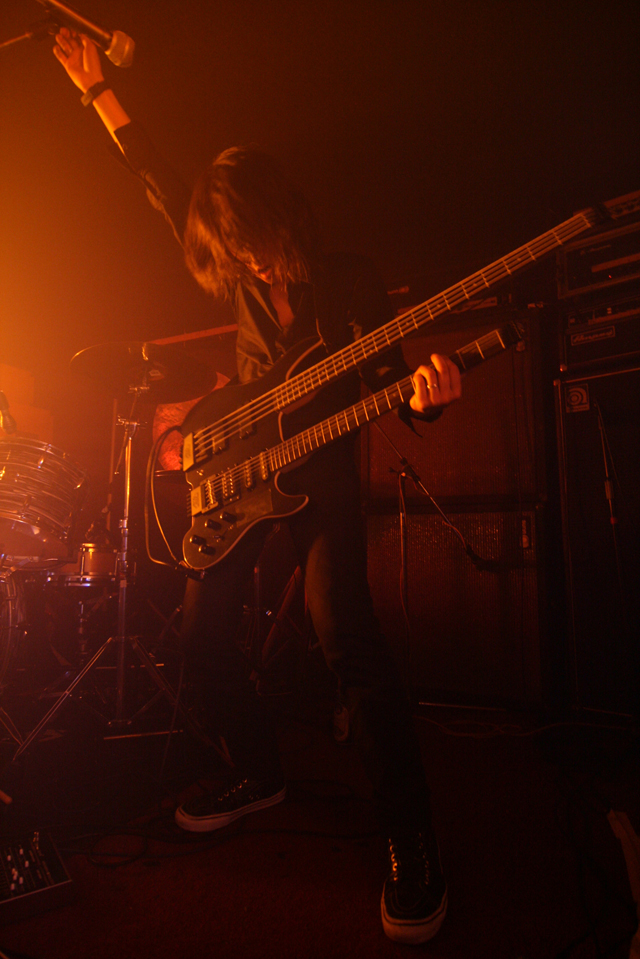 Legendary Status
Boris is legendary both inside and outside Japan. How does it feel to have listeners and fans tell you that discovering the band influenced their life?
In my teens, extreme music such as punk, hardcore, metal, thrash baptized me. To this day, I'm still greatly influenced by them. It's almost like a trauma. As I make my work, I carry on the inheritance of that musical influence.
This album includes a song about inheritance without blood, "Non Blood Lore." Even if its blood isn't inherited, the culture will continue in this way. Now that the culture has been stagnant due to coronavirus, I'm more conscious to not put out that cultural fire. Nothing would make me happier than if Boris' work reaches many people and its influence continues to connect new cultures.
Out of all the bands you toured all over the world, who feels like family to you?
We've played with many bands, but rather than families, they're more like "kindred souls." They aren't "comrades" or "rivals." They've lived the hard touring life like us and have survived by never surrendering the creation of their work.
Because I respect them, we don't lightly act intimate with each other. Fortunately, all the bands we've performed with have great musicality and the members have been great.
Boris is one of the loudest live acts in the world. Do the band members take any precautions to protect your hearing at this point in your career?
It's not to protect my hearing, but I wear an in-ear monitor to make it easier to monitor the performance on the loud stage. Ideally, I wouldn't want anything on my ears, but I can't hear the song at all on the wedge monitors. They're drowned out by the loud volume coming from my amp. Sometimes new music is born from new performance systems.
The word "heavy" means something different to everyone. The music of Boris is crushing yet encompasses everything from shoegaze to doom metal. What does "heavy" mean at this point in Boris' career?
Being "heavy" is to be "real." It's a realness that reaches people's hearts. Like when films and music influence a person's life. Someone's life influences films and music with that power to be born. Life is constantly "heavy."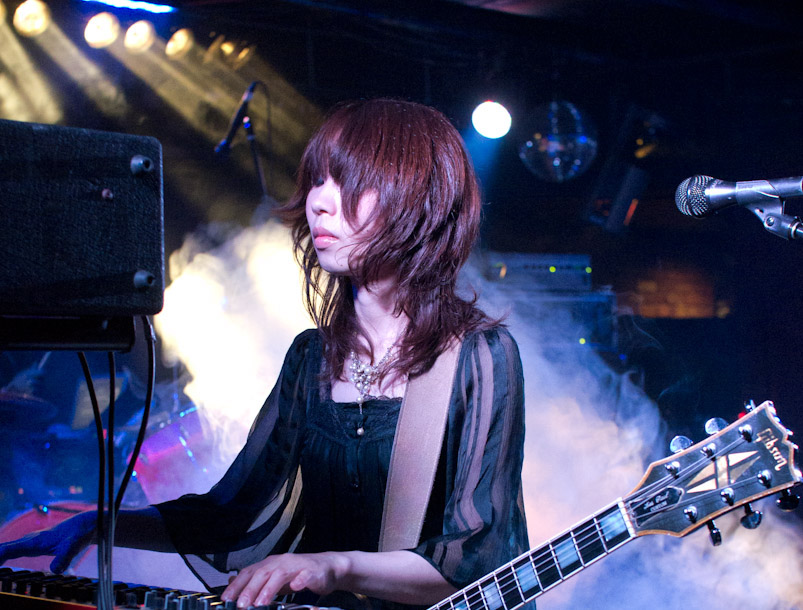 In a career with so many highlights, what is still left for the band to achieve? Are there goals that keep Boris striving?
There are so many things we want to still try. However, looking at the current social situation, we can't survive in the same way as we did pre-coronavirus. I have no idea what the world will look like in the future. Like a mirror that reflects the world's change, Boris will change and evolve, and continue delivering sound to listeners.
The State of the World
This is such a challenging moment in world history. It seems like NO is a reaction to everything happening right now. What is the role of music in such dramatic times?
NO captures all the bad situations around the world and reflects them like a mirror. Then, those negative things go in another direction and sublimate themselves into positive things. In this chaotic world, I hope that this can heal those who feel attacked by negative emotions.
Because we're in this kind of situation now, there's a need for intense, noisy, extreme music. Screaming in unknown words allows us to reflect and sublimate feelings that we can't define yet. Just like when I was a teenager, I was to heal my depressed anger and dissatisfaction by listening to punk and hardcore and was able to transform my feelings into creativity.
Was NO, or parts of it, recorded during the current pandemic, and did that influence the creative process at all?
It was right in the middle of the lockdown/pandemic. The situation worsened at a speed that exceeded our imagination. There was no time to stop or feel confused. We wanted to release the work at our discretion and our speed. The band completed the album faster than any other one in Boris' history. 
As we felt the crisis, we focused only on what we could do, and what we should do. As I mentioned earlier, as the culture slowed down, we felt the influence we've gained must move on to future generations through our work. Therefore, we folded in that influence into the songs more and more without obscuring it.
With touring and shows on hold for the moment, does Boris have any unique ideas for ways to present this music?
In a nutshell, our shows have a "touch the audience with sound" phenomenon. The sound shakes our hair and skin along with the shirts we wear. The sweet scent of smoke. Lighting that can cause dizziness. Boris' shows are for us and the audience to experience with all five of our senses. The eye contact we make with the audience during performances are thrilling moments for both that nothing can replace. However, right now, that can't happen.
Many musicians and venues are testing out audience-less live shows and streaming-only shows, but I fear that this may become a norm, and listeners would get used to it. You may abandon the charm of a live show. No matter how loud your earphones are, the sound pressure that sways the eyes can't isn't transmitted over the computer.
It's important to seek out various methodologies and try them, but it may result in narrowed options. We should take each step carefully. For now, we're skeptical of live streaming without an audience.
The DIY Spirit
You released NO without a label after putting out records on some amazing imprints. What was the process of being completely DIY like as compared to working with Southern Lord, Hydra Head, or Sargent House?
Each label has its own color and its own merits. Currently, Third Man is the main label, but there have been releases from several labels domestically in Japan. We're generally always DIY. Until we finish the recording, we're not interrupted by the labels. 
We also record ourselves. We're freely working without being bound to each label. The usual way is to talk to the labels at the point of release and distribution stages. This time, we did release without going through a label, and we delivered the sounds to the listeners ourselves. 
With postal services and logistics on pause, it was tough to try to sell physical items. In that situation, focusing on Bandcamp and rapidly sending this work to the listeners worldwide ended up becoming a great experience for us too. 
Now there's another possibility for the future. It's not only the DIY spirit – we're able to continue this band thanks to friendships and partnerships we've cultivated over many years. We're truly grateful to our close staff, and supportive listeners worldwide. We hope that there comes a day where we can reunite with everyone again at venues around the world.
Stay safe, stay heavy.