In 2020, the 808 sound is a mainstay in contemporary music. The drum machine forms the bedrock of innumerable cross-genre touchstones. But long ago, in the small town of Palm Beach Gardens, Florida on the tempestuous Atlantic, a sound was brewing. 
Pitching the TR-808 kick drum allowed Dynamix II to play percussive bass lines with the backbeat, creating a mellifluous marriage of rhythm and melody. Under whispering palm trees and neon lights, Miami bass was born.
We caught up with Todd Walker and David Noller of Dynamix II. The pair shared stories, inspirations, and how Roland helped create a musical lineage inspiring countless compositions
When did you first discover the 808 sound and who were some of your early influences? 
David Noller

: When I was growing up, I heard the 808 used in a ton of electronic music, most notably written by the production team of Arthur Baker & John Robie, Man Parrish, Egyptian Lover, Twilight 22, Hashim, Amos Larkins, and Newcleus, to name a few. I had spent a good portion of my childhood in a skating rink listening to these jams which felt like they were tailor-made for skating and break dancing. 
The TR-808 drum machine had a very distinctive sound and it didn't sound like a real acoustic drummer. It sounded very electronic and robotic. All the electro-funk music of that time had the 808 on it.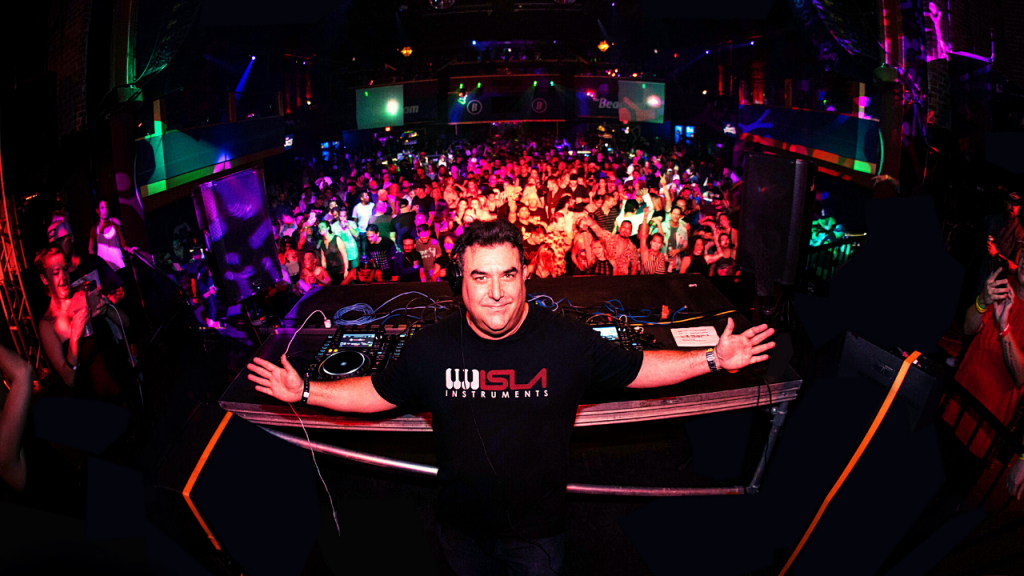 How did you initially get involved in making music?
DN: My introduction to music production came from spending countless years listening to NYC radio mix shows. DJs such as The Latin Rascals, Aldo Marin, Dynamic Duo, and Shep Pettibone made flawless master mix medleys from the top dance songs of the day by editing reel-to-reel tape. 
This was all before computer linear multitrack editing. They did it on reel-to-reel recording to tracks. Not only that, they were actually cutting the tape with a razor blade and joining it to the other piece of the reel with tape. I painstakingly recorded tons of those mixes to cassette. Then I listened to them over and over to create the blueprint for the music I would go on to make as Dynamix II.
Did you have any formal musical education?
DN: I had been playing at skating rinks and teen clubs during my high school years. Immediately after graduation, I attended Full Sail School of Recording Arts in Orlando, Florida. After that, I struck a deal with Bass Station records in Miami to release our first record "Just Give the DJ a Break." 
I knew that record was going to be special. We used an EMU SP-1200 sampling drum machine as our primary drum sequencer and had a custom kick sound made by marrying the TR-808 and the TR-909 in an EMU Emulator II. 
The combination of the two kicks gave us a bass drum sound that had all the right things in the right places. It was the first Miami Bass track to have the DII custom 808 kick played in varying pitches like a bassline. A few months later the record went gold and the rest is history.
Todd Walker: The first time I ever heard an 808 was in Afrika Bambaataa & the Soulsonic Force hit "Planet Rock," which I immediately became obsessed with! That track was game-changing and became the first 45″ record I ever bought. 
I've had countless musical influences through the years but here are a few: Afrika Bambaataa & the Soulsonic Force, Kraftwerk, Egyptian Lover, Pretty Tony, Freestyle, Twilight 22, EON, Depeche Mode, New Order, 2 Live Crew, MC ADE, Ice T, Front 242, NIN, and Meat Beat Manifesto.
My introduction to music production came from learning to play my family piano. This laid the foundation for music structure and theory. As a resuly, I became big on making mashup mixes using tape decks. I always wanted to make the bass music I grew up listening to, but you couldn't exactly Google "how to make bass music" back then.
It wasn't until I met David Noller and Scott Weiser through mutual friends back in 1989 and learned their process. They would frequent local pawnshops and purchase old synths and drum machines. 
One day, while out hunting, we walked into a pawn shop that had a Roland 606 drum machine. David suggested I buy it. Five minutes later, I was walking out of the store with my first drum machine (which I still have till this very day and will never part with). I kept buying more gear, honing my craft, and eventually getting signed to Dynamix II Records in 1993.
When did Dynamix II form, and how did you two meet?
DN: Dynamix II formed in the summer of 1985 while I attended Full Sail School of the Recording Arts. I had been courting a deal with Bass Station for Danny D and myself to distribute a single we were working on called "That's the Way I Like It." There was another offer on the table from Beware Records in West Palm Beach. Danny went with Beware, and I chose Bass Station to later bring Dynamix II aboard with Lon Alonzo.
TW: I met Dave in 1989 through mutual friends while growing up in Palm Beach Gardens. We all used to hang out at the DII studio, having parties, playing music, and playing around with a commercial grade laser. David's electronic engineer friend, Preston Smith, constructed a controller for the mirrors which would draw Lissajous patterns on the walls. 
It was very impressive and loads of fun. We both own houses within 3 miles of each other too. I started Jackal & Hyde in 1996 with Scott Weiser, parted ways after 24 years, and joined David as the new resurgence of Dynamix II in 2019. Our first release "Got that Booty" hit #1 on the Beatport Breaks chart.
Where did you buy your first TR-808, and how much did you pay for it?
DN: Back in the late '80s, the 808 wasn't available anymore. You couldn't just walk into a music store and say, "I'll take that TR-808 up on the shelf." I would dream about stumbling into a pawnshop and finding one. After a while, I had this dream so often I would end up waking up clutching a pillow in my hand. One fateful day, I was in a shop down in Broward (Ft. Lauderdale, Florida) that I went to all the time to find rare vintage synths.
Once, I was walking down the aisle where they displayed the instruments and, like the search for the Holy Grail, there it was. I stood there in awe as I reached out, grabbed it, and pulled it to my chest. It was coming home with me no matter what. 
Now here we are, 30 years later. It sits proudly on my keyboard stand with autographs from The Egyptian Lover, Arthur Baker, and Kid Money from the legendary Miami Bass act Splack Pack. Kid Money ended up doing vocals on "Feel the Bass."
In short, Dynamix II helped lay the foundation of the Miami Bass sound and many of those techniques used in the early '90s are still used today. How did you come up with tuning the bass drum to use as a bassline?
DN: We created the song on an EMU sampling drum machine called the SP1200. It had a function called multi-pitch which, when enabled, would spread a sound across eight keys that you could tune. I was fortunate enough to own one when it was first released, so we had the jump on the new technology. We took inspiration for the tuning of the 808 kick form a track by Sweet T & Jazzy Joyce called "It's My Beat".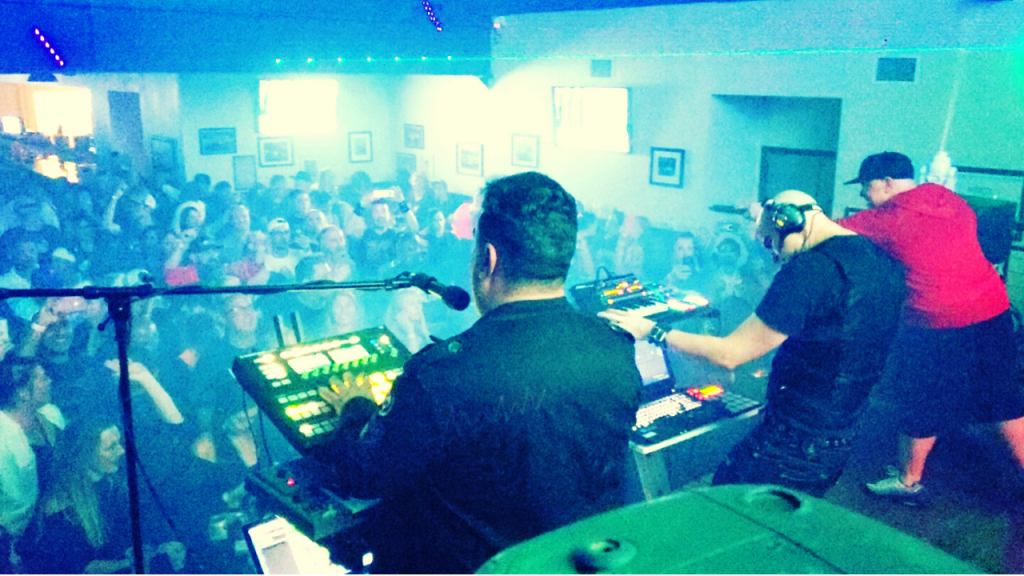 I remember the producer at the time, Eric Griffin (RIP) saying, "Do you hear that? Man, that is so funky!" Eventually, it made it into the EMU SP1200's sequence. But the tempo was around 110 BPM which wasn't fast enough for the skating rink or the teen clubs I was working at. 
After much arguing and days of going back and forth, we raised the tempo to 118 BPM. This was a compromise between the slow and low tempo and the standard skating rink/teen club 120 BPM tempo. 
TW: The early sampling percussion units were key to that whole process. We sampled anything and everything, mainly sine wave type sounds (including the 808). Then, we would loop it, pitch it low across the pads, and see what kind of drop bass it would produce.
What genres have the Miami Bass sound created and/or influenced in today's music?
TW: The Miami Bass sound had a huge influence on today's music. Dynamix II was the first to make drop bass change notes back in 1985 which is now in most trap, dubstep, bass, and top 40 dance music. Many consider the Dynamix II classic "Purple Beats" (1989) to be the first seminal trap-style song. It was created decades before the onset of trap music.
What do you think of the Roland Cloud TR-808?
DN: It's spot on. I compared it against my hardware TR-808 and I can't tell any difference whatsoever. To test it out, I even tracked them and visually inspected the waveforms which side-by-side look identical.
TW: Incredible. It's definitely the exact sound and having the hi-rez mode is nice. All Roland's legendary drum machines, synths, and sounds are painstakingly recreated and preserved and conveniently available at your fingertips. This is a must-have for every producer, from the veteran to the beginner.
What other Roland gear plays a part in the sound of Dynamix II?
DN: The Dynamix II Studio is practically a Roland museum. We have the SH-101, the SVC-350 Vocoder, TR-606, TR-808, TB-303, MC-202 Composer, and JV-1080.
TW: We both use the Roland VP-03 and SVC-350 a lot for that vintage vocoder sound and while performing on stage live. They both sound amazing.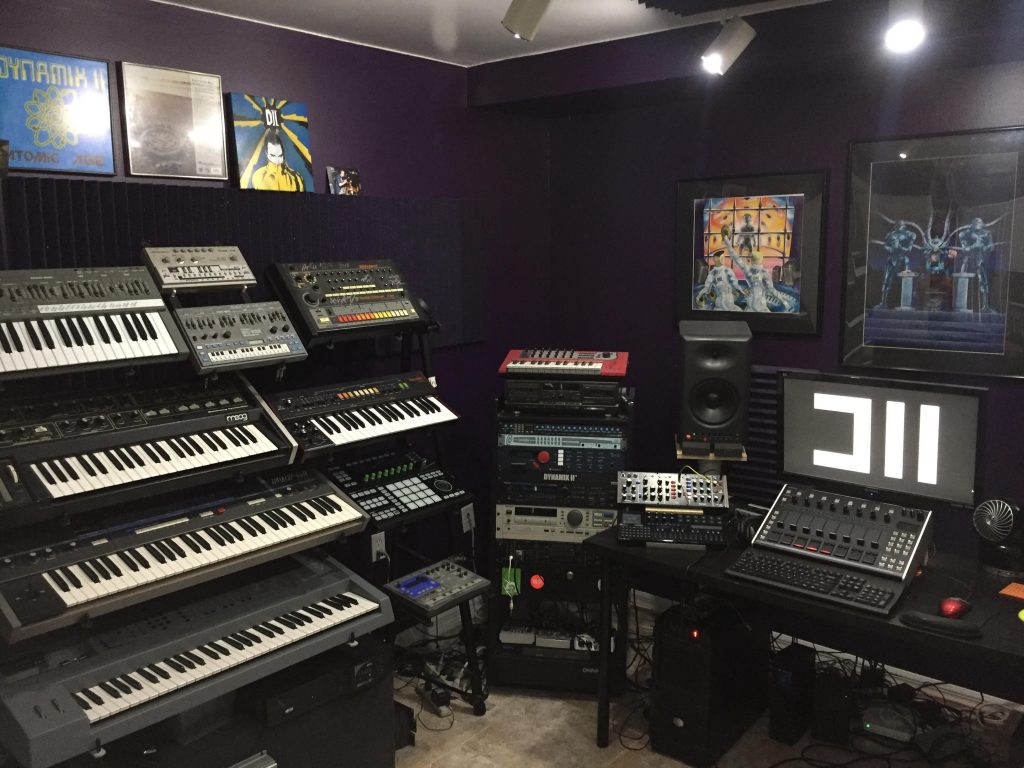 What's next for Dynamix II? In particular, is technology still influencing the way you make music? 
DN: Yes, we are always surrounded by technology. I work primarily in the box on Ableton but have to mention Brad Holland and the game-changing Isla Instruments s2400, of which I am very proud to be a part. That machine's workflow is nothing short of magic. At the same time, I'm also working behind the scenes with a few software developers like TAL on VST related instruments/effects.
TW: Ableton Live has been our staple for a long time now and will continue to be in the future. We both use NI's Maschine Studio on some projects, along with a ton of hardware. Having a system like Roland Cloud working seamlessly with a DAW is invaluable.
Finally, what is the best advice you could give to aspiring artists, producers, and beatmakers?
DN: Follow your dreams, do what makes you happy, and never forget the following 3 rules: Always be humble, never miss a show, and always follow through and do what you say you are going to do. 
When it comes to playing an event, require a 50% deposit to lock the date and be sure to get the balance before you step on stage or hand over any master files. If that deposit is late, you'll know what you are up against. 
In the end, when mixing, always use a reference to AB check your work, and triple check everything. Once the project comes out, there's no going back.
TW: Try to make the music that most inspires you. Don't be afraid to mix multiple genres and experiment with sound creation and music production. But always utilize the fundamental rules of music theory and structure, especially if you're going for a specific genre.
Having access to a system like Roland Cloud and other types of DAWs has made it a producer's dream nowadays. You don't have to use cables, MIDI, and all the hardware from many years ago just to make a song.
As Dave said, follow your dreams. It may sound cliché, but we are both living proof that with hard work and dedication you can come from humble beginnings and attain success.