The Roland DJ-707M is a sound mixer with microphone preamps, effects, a speaker management system, and a DJ controller. It can handle the demanding needs of working DJs, musicians, and entertainers alike. DJ-707M is a controller that doubles as a tool for mixing, streaming, and music performance. Learn how to set up and use its many advanced features.
Meet the DJ-707
The DJ-707M leverages the DSP of Roland's digital audio consoles to ensure you deliver the loudest, clearest sound possible. Learn what's unique about the DJ-707M and how to operate it, as well as a few tips and tricks to get you going. The DJ-707M has so much to offer the working musician and the mobile DJ and of course, the entertainer who is both.
It has full Serato DJ Pro support and comes with iZotope audio effects to pull great sound with simple one-knob control. If you add to this a TIDAL account, you will have access to over 60+ million tracks to accommodate the toughest of patron requests.
With a built-in Roland TR drum machine, accent tracks with classic TR-808 and 909 drum loops. You can even provide a backing beat for instrumentalists. Setting Deck 4 to OSC lets you drop sweepers, synth stabs, and other onboard DJ sound effects to spice up a mix.
Speaker Management
Whatever the gig, there can be so many scenarios where you need to control the audio for different areas of the venue.
The DJ-707M has three dedicated stereo sends. All have independent P.A. management settings, with four-band EQ, multiband compression, limiter, and mono mode. It's like having three speaker management processors built into one unit.
You'll find in many situations it's is handy having the ability to create different zones. The ability to have a separate device on its own channel to a different speaker has many benefits. Also, there is an assignable zone output with dedicated level control. This is ideal for creating a mix for a collaborator, sending music to another area, or adding a subwoofer.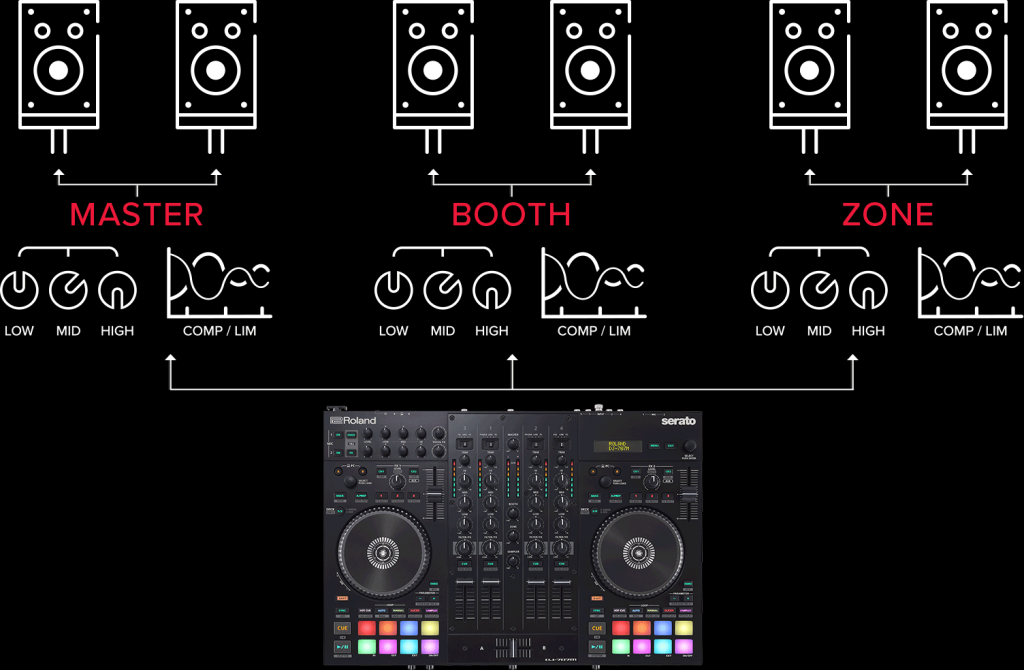 Scene Presets
Many entertainers have more than one regular gig. They might perform at a local hotel every Friday and have Saturday wedding gigs. This is where you can use the DJ-707M's ten, very handy onboard scene presets.
Using scenes, create settings for audio routing, loudspeaker management, and system setup. Plus, recall them instantly. When the unit arrives from the factory, several scenes are already saved. In addition, you can edit and overwrite these scenes.
This feature is convenient, especially if you frequent regular venues. Scenes are a huge timesaver for standard event configurations. They let you switch settings for different speaker systems and recall custom setups. Here's how to use scenes:
Anti-Feedback
Have you seen an inexperienced speaker, father of the bride, or even a CEO cause feedback? This usually occurs because he or she doesn't know not to approach the speakers with a microphone.
Feedback at a gig is annoying. It can ruin a speech and irritate guests. Built-in feedback suppression listens for feedback—and even anticipates it. Then it adjusts speaker output automatically. As a result, DJs don't have to stress about trying to control the person holding the microphone.
A Mixer Packed with Features
Have you ever wished your vocals sounded punchier, brighter, or crisper? To get an event rocking, you need to have a great sound on the mic. Impressive vocal sounds require a combination of preamps and excellent effects.
The DJ-707M has excellent preamps with the DNA of a professional audio console. These studio-quality preamps have independent gain, low-cut, and a noise gate per channel to remove unwanted sound. The DJ-707M lets you get the exact right sound for each microphone. With dedicated effects like reverbs, delays, auto-pitching, and auto-ducking, users control their vocals.
For flexibility you can use the front-facing aux inputs with microphones. Simply flip the switch to MIC for the correct level and impedance. This gives you a total of four mic inputs, enough for the whole party to sing along.
Channel Filter and FX
Assign Roland's pristine hardware effects to the dedicated Filter/FX knob on each channel. Effects include Filter, Dub Echo, Jet, Noise, Reverb, Delay, Bit Crush, Phaser, Noise 2, and more.
Want a polished vocal sound with high-quality reverb or use a slicer to break up the track in total sync? The Roland DJ-707M has two FX section to adjust depth, FX type, timing, and select the which channel receives FX.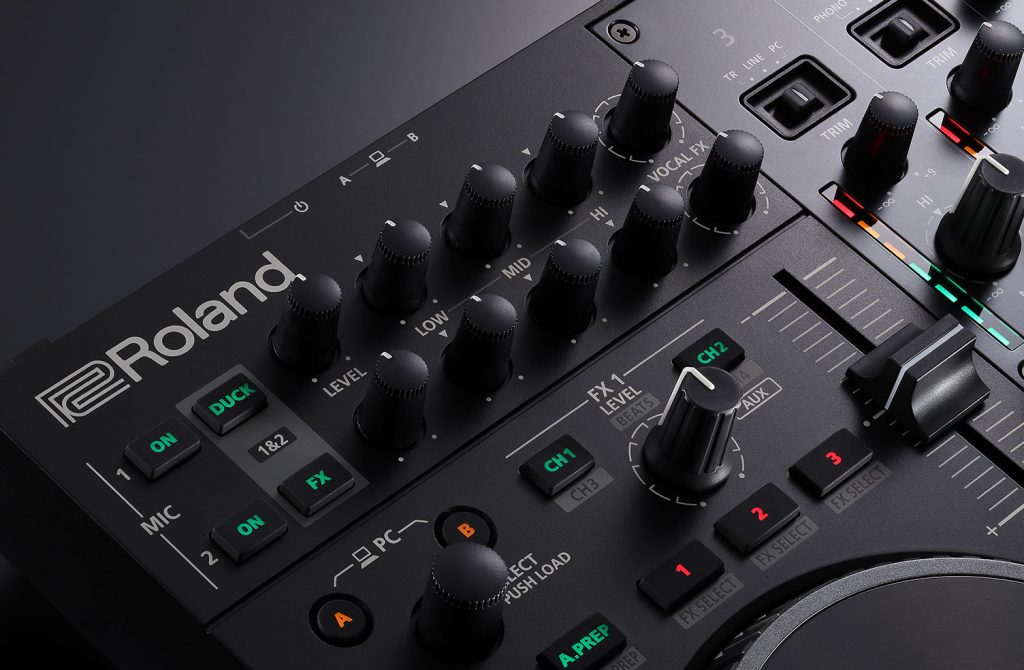 Livestream with the DJ-707M
Have you started to perform online either as a DJ or as a musician from home or from a venue that you frequent? Roland's DJ-707M is a versatile controller. It's great for mixing and scratching, livestreaming, content creation, remixing, even Karaoke.
For content creators, the multiple inputs and outputs are useful. They allows users to run microphones and other audio sources directly to their iPhone or iPad stream, speakers, or recorders.
Connecting to a Smart Device
To connect the DJ-707M to a smart device you'll need 2 accessories. You'll need an adapter like Apple's Lightning to USB adapter. as well as an extra USB cable. Once you get the accessories you need, you will have to set up the controller so it knows where to send the USB audio.
This function goes through the second USB port on the back of the controller called PC-B. Simply change the setting from "Vendor" to "Generic."
Press the menu found in the upper right-hand corner of the controller. Use the "Select" knob to scroll three clicks to the right The display will read "System Settings." Press the Select knob and you'll see the function that you need to change: "PC – B USB." Next, press the "Select" up one more time so that "Vendor" is flashing. Then move up one click to the left to show "Generic."
You'll need to press the select knob to save that setting. The controller will ask you to "please reboot to change USB mode". Press the power button to turn the controller off, then press it again to turn the controller back on. 
Connect your second USB cable into the P–B USB port, plug your cable into your adapter and finally plug the adapter into your smartphone. Launch your streaming platform, press the apps "live" button, and your viewers will be able to see and hear what you're playing.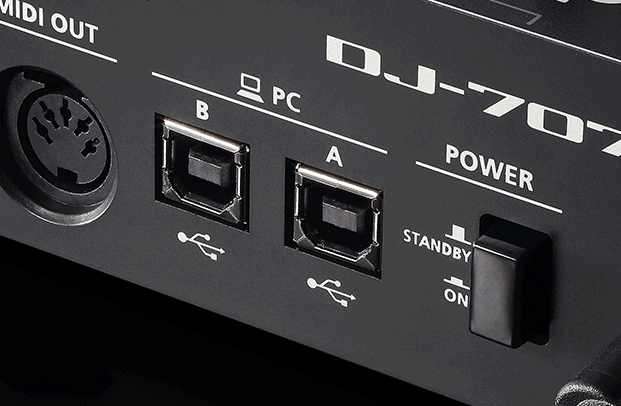 Using Serato DJ Software
The Roland DJ Series controllers are powerful DJ performance instruments. However, they become even more useful by integrating Serato DJ software. You need to understand Serato DJ software to get the most out of the equipment.
Sync options, beatgrids, analyzing audio files, key sync, and pitch play are a few of the many functions Serato possesses. Use them to maximize your DJ-707M controller.
Serato + Music Streaming
Fulfilling requests from a demanding audience is always a challenge. This is especially the case when the dance floor is pumping. The DJ-707M unlocks Serato DJ Pro software. You can mix tracks with the latest tech but also provides the ability to stream millions of tracks. Finding a one-off request, crowd favorite, or new music is no longer an issue. From underground sounds to certified classics, stream everything directly in Serato DJ Pro. All the while, control it with your DJ-707M.
About Tidal
With the Tidal streaming service, you'll never get caught without a requested song. Streaming with TIDAL in Serato DJ Pro provides access to a library at the highest audio quality. Organize playlists from the TIDAL phone or desktop app. Noted for its commitment to high-quality sound, this service is a great fit for working DJs. Tidal offers two types of membership. Premium offers AAC files only, while HiFi gives the option of FLAC or AAC files in 320Kbps or 256 Kbps.
Change genres, fatten up tracks, remix, and transition between songs in fresh ways. Alternately, jam along with loops while playing guitar. It's easy to press "Play" on the latest hit. However, with these tools, give chart-topping hits and club classics a unique spin.