Over the last decade, there have been many trends in music production. For hip hop producers two sounds have dominated the genre in very different ways: trap and lo-fi. Trap music is a subgenre of hip-hop that has been building momentum since the '90s and early '00s. Atlanta was an incubator for early trap artists such as TI, Waka Flaka Flame, Young Jeezy, and Gucci Mane.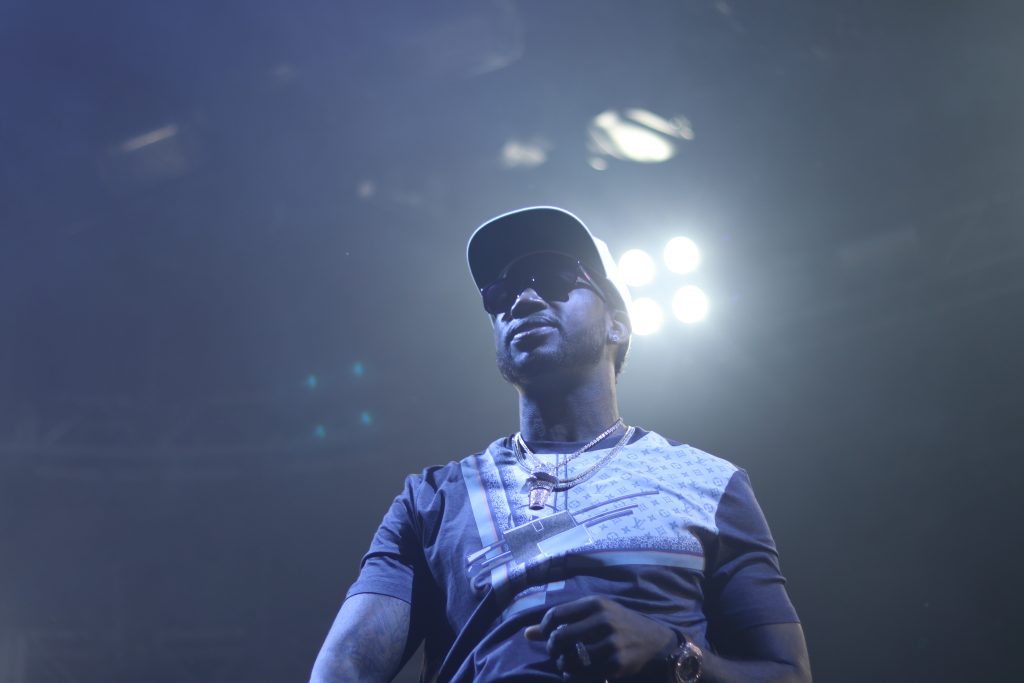 Trap vs. Lo-Fi
Producers like Southside, Lex Luger, Zaytoven, Drumma Boy, and Shawty Redd popularized the sound. Trap began to have mainstream and crossover appeal around 2013. 
In contrast, lo-fi hip-hop (also known as chill hop) is a subgenre inspired by J Dilla, Madlib, Nujabees, and Mr. Diba$e to name a few. This genre found popularity in LA's mid-'00s beat scene and on internet channels like Chilled Cow and College Music. 
Unique Sonic Qualities
Both genres have unique aesthetics that have come to define their respective sounds. Trap music production usually features booming 808s, dark synths, and skittering hi-hat patterns. Lo-fi hip-hop features muted jazzy samples of piano or guitar plus heavily swung and often unquantized drum patterns. Let's explore how to create both genres using Roland Cloud Software and Roland Zenbeats.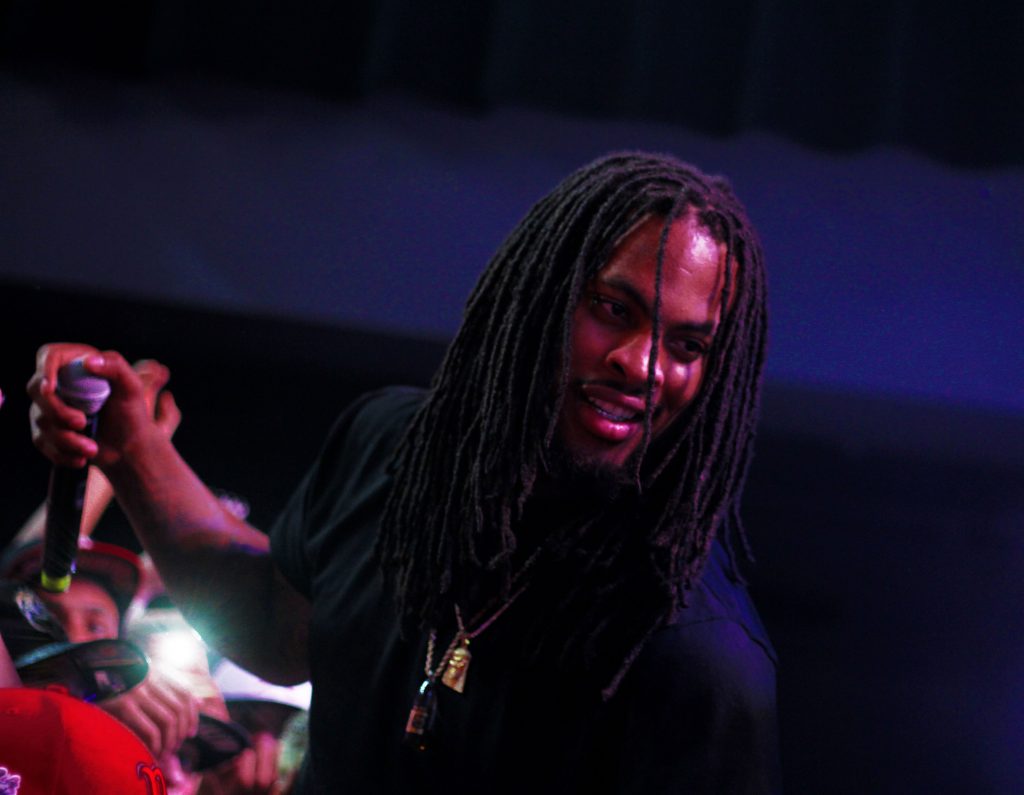 How to Create a Trap Beat Using Roland Cloud
Roland Cloud offers over 50 software instruments. These range from recreations of classic synths to the modern ZENOLOGY software synthesizer. To get started, download and install the Roland Cloud Manager. 
Once installed, you can sign up for three different plans (Core, Pro, & Ultimate) which will give you access to the different collections. We'll explore the Legendary series. These recreate many of Roland's classic synthesizers and drum machines from the '70s and '80s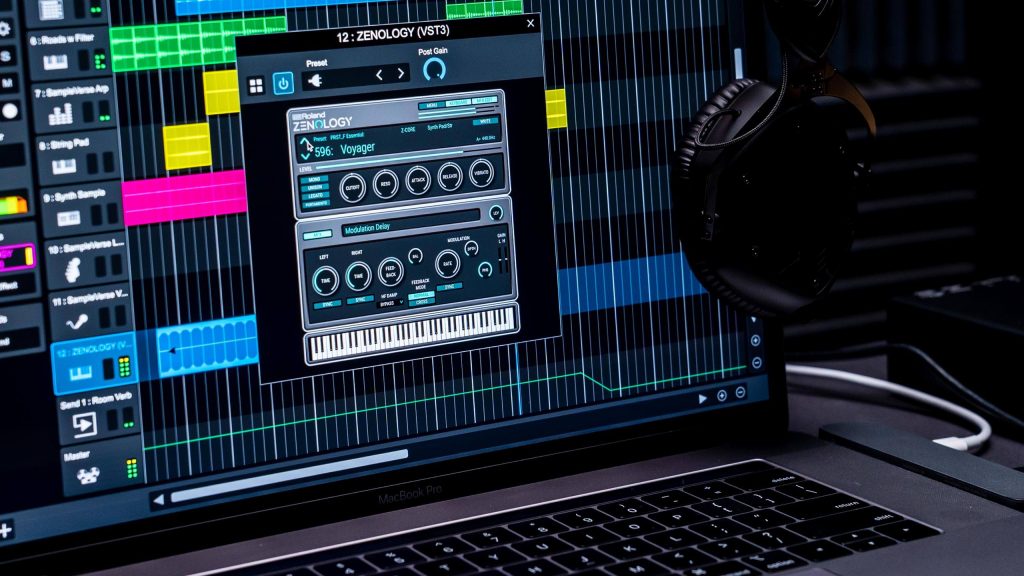 Get the Tempo Right
When starting our beat, the first thing to do is set a tempo. Most trap beats fall between 115-160 BPM with 140-160 BPM being the sweet spot. After we find a good tempo, we need to select some instruments. Trap music revolves around the drums. Luckily, Roland Cloud features one of the most iconic drum machines in history: the TR-808. The TR-808 signature long bass drum invented the term "808s" as we know them today.
When using the TR-808 as a plugin, you can play drum patterns like a normal MIDI instrument. As an alternate, experiment with one of the 32 preset drum patterns. If you're new to producing or need a little inspiration, use the pattern presets to get a groove going. As an example, I used preset 007 on the TR-808 and it'll give me a pretty standard trap groove.
After setting my tempo (160) and creating a drum pattern I need to add a few more instruments. When thinking of the components of beat creation I use five essential elements to get me started:
Tempo (160 bpm)
Drums/Perc (TR-808)
Bass (SH-101)
Harmony/Samples (JUPITER-8)
Melody (JX-3P)
Harmony helps to create the mood and emotional tone of your tracks, whether trap, lo-fi, or any other style. I used the 1981 Choir Voice pad on the JUPITER-8. It has a subtle texture reminiscent of the Toronto sound popularized by Drake, OVO40, and Boi-1da. Tweaking the parameters of this synth can lead to new sonic worlds far beyond the preset sounds. After establishing a harmonic foundation, I added a bass line using the SH-101 which is great for bass sounds and leads.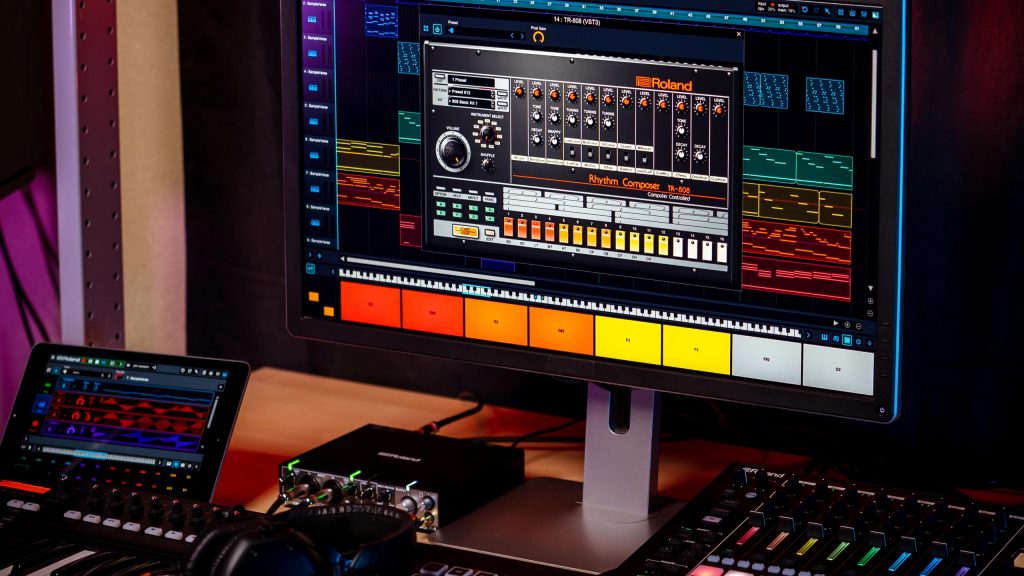 808 Domination
Trap music is usually dominated by 808s. These take up most of the bass frequency. For more mellow/R&B style beats, it's nice to have a combination of heavy kicks and synth bass (ex: Diplomatic Immunity by Drake). 
The final elements I added were two minimal synth melodies and one synth glissando. For these, I used the JX-3P which has an amazing array of synth lead, organ, and string sounds. On this track, I used the Whistle and Celesta presets on the JX-3P. Then, I added a delay on the whistle sound to create the glissando effect. You can hear the demo example below.
Remember, when creating trap beats, leave enough space for the track to breathe. This gives room for the artists to express themselves.
How to Create a Trap Beat Using Zenbeats
Inspiration can hit you at any moment. Sometimes, you're on-the-go and get the urge to create a banger. Roland's first music production software, Zenbeats, offers the tools to create a full track or capture ideas for later use. Zenbeats features an intuitive step sequencer for programming drums in trap, lo-fi, and countless other styles. 
It also has an array of instrument tracks playable using the on-screen keyboard or drum pad style touch display. Like Ableton's clip view, you can compose loops and combine them in scenes organized A-H. Zenbeats is available for iOS, MAC, Windows, and Android. It also integrates with Google Drive and OneDrive so you can work between your computer and mobile device.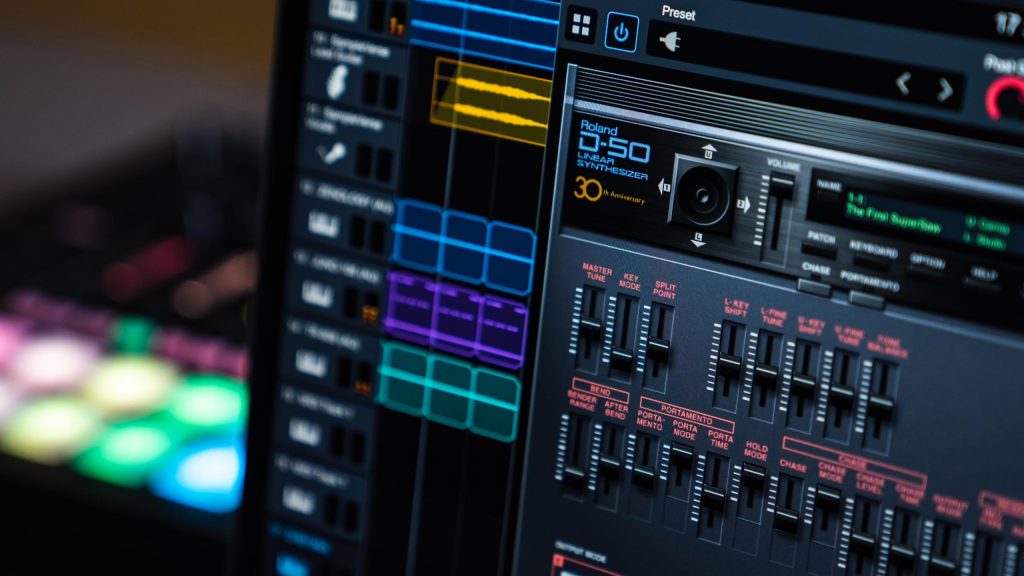 Step by Step
To make a trap beat using Zenbeats, let's focus on five essential elements: tempo, drums, bass, harmony, melody. First, set the tempo to 150 BPM. To program drums, you can use the step sequencer or play on-screen pads. Like the TR-808, Zenbeats built-in drum sequencer comes with a collection of preset patterns that you can load and manipulate. This is a great tool to use if you're not familiar with working with step sequencers or need help programming certain grooves. 
For this beat, I selected the 12bit Funk Kit and programmed a four-beat loop with a simple snare and kick pattern. In trap music, hi-hats usually drive the pulse. To that end, I programmed a steady eighth-note hi-hat pattern with sixteenth-note variations.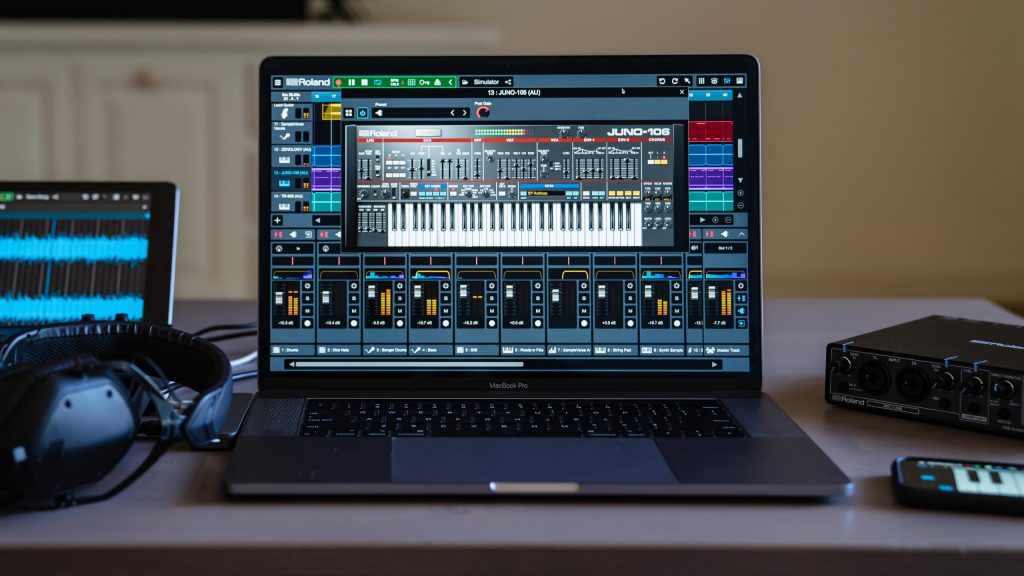 Adding Hi-Hats and Subdivisions
I then added a second hi-hat part with rolls, fills, and pitch modulation to create some variations. An easy way to make hi-hat rolls is to click your hi-hat sample in the drum sequencer. Then drag your finger or mouse to the right. The sequencer will input different subdivisions including triplets and thirty-second notes. 
You can also automate subdivisions by double-clicking any drum sound which will open the automation window. Once the automation window is open, select subdivisions and create rapid repeating notes by dragging drum hits. For every drum sound in your sequencer, you can automate the velocity, pitch, panning, filters, push/pull, and even reverse sounds. 
Importing Audio
Another great feature in Zenbeats is that you can import your audio samples. I added an 808 sample by clicking the add drum sound button and selecting the user folder. This allowed me to access my samples via Dropbox on my mobile device. If you're using the desktop version, the user folder will locate contained on external flash drives or other folders. After adding my 808, I programmed a pattern and automated the pitch to create an 808 bassline. 
For the melodic instruments I used ElectroSynth (bass), ElectroComposer (melody), and ElectroKeys (chords). Each melodic instrument contains a menu. There, you can adjust filter types, Pitch, Modulation, two types of LFOs, and four built-in effects (Bit Crusher, Delay, Chorus, and Reverb).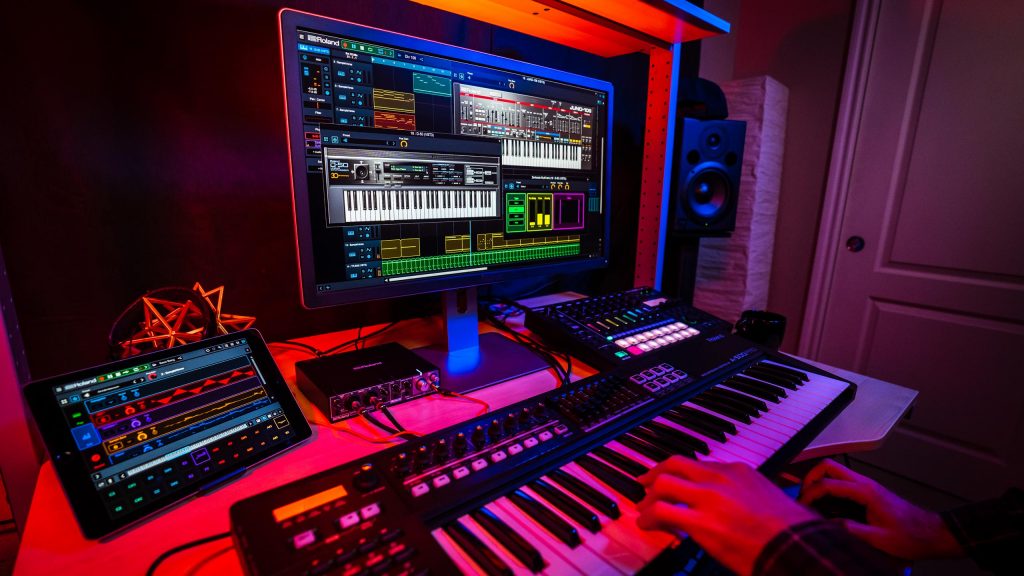 Moody Melodies
Many trap melodies revolve around arpeggios or simple diatonic melodies. 
I chose a D minor and Bb major (in the first inversion) arpeggio to create our melody. To keep the mood dark, I used the ElectroSynth Double Trouble sound to create a bassline revolving around D and G. This makes the second part of the melody sound like G minor instead of Bb major. I then added a D minor and G minor chord using the Thick Saws preset on Electrokeys. 
I used the built-in filter option to cut off a lot of the high end of the sound to invoke a darker mood. After programming a good four-bar loop, create variations in different scenes. Then you can arrange and mix your track within the application. You also have the option of creating stems and exporting them so that you can finish your beat in any DAW. 
How to Create a Lo-fi Beat Using Roland Cloud
On the other end of the hip-hop spectrum, lo-fi hip-hop lends itself to mellow tones and subtle drums. The lo-fi hip-hop sound usually features samples of jazz records or obscure synths to create warm and fuzzy textures. Using Roland Cloud, I can create a lo-fi beat with just a few instruments. 
Step by Step
To start my beat I'll try to recreate a jazz style sample by using the JV-1080 which has a wide variety of piano sounds. After laying down a piano riff I used the TR-909, which is well known for its hi-hat and clap sounds, to create my drum pattern. Unlike trap, lo-fi hip hop is heavily influenced by the boom-bap style of the '90s which mostly featured samples of funk drum breaks or programmed beats that were swung.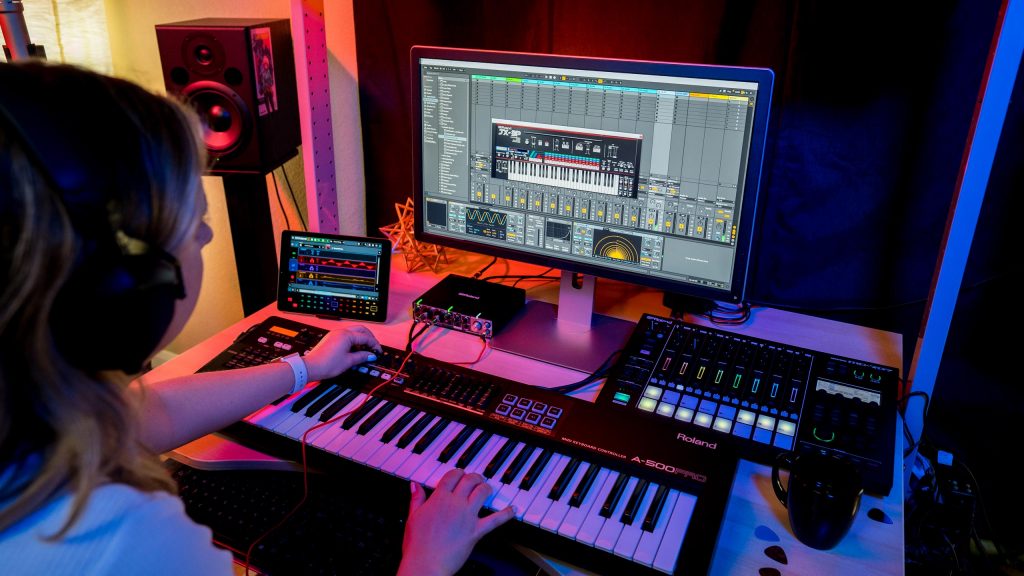 J Dilla Stylistic Tips
J Dilla, who is the stylistic architect of the entire lo-fi genre, developed a syncopated style of drum programming that aimed to recreate the normal push and pull of a human drummer. I attempted to emulate this style by leaving the drums unquantized and playing the hi-hat pattern extremely behind the beat. 
Another one of J Dilla's innovations was the way he approached basslines. His approach to creating basslines was to have melodic lines that ebbed and flowed. They moved with the beat rather than playing root notes in obvious places. I recreated this effect using the SH-101 Bass 2 preset and playing a minimalistic line that revolved around Eb minor pentatonic. 
I reinforced the piano with a string pad provided by the JX-3P. By adjusting the cutoff and resonance of the voltage-controlled filter (VCF) I was able to make this pad sound more subtle which allowed it to blend with the piano rather than overpower it. 
More Movement
To give the beat a little more movement I added a guitar arpeggio with the Tera Guitar VST which is part of the series of instruments available with Roland Concerto. Lo-fi beats usually contain some type of atmospheric texture like vinyl noise or rain sounds so to add a bit of texture I used the Sound Canvas VA-1 to add a rain effect. The only element of this beat that wasn't created with the Roland Cloud plug-ins was a sample of my voice which I chopped up to make transitions in the beat.
How to Create a Lo-Fi Beat Using Zenbeats
To create a lo-fi beat using Zenbeats let's start with a tempo of 92 BPM. Most lo-fi beats range in tempo between 80-98 BPM. Next, I wrote my drum pattern by inserting my drum samples and automating the push/pull of certain drum hits. This creates the swung syncopated Dilla style drum groove. 
I programmed a simple kick and snare pattern and then added an eighth note pattern on the hi-hats. I then automated the velocity of the hi-hats as well as the push/pull (I pushed each between 65-86%). 
Automation Tips
Automating the velocity of the hi-hats makes it sound more like a real drummer is playing and not a machine. To continue the human lo-fi feel I pushed the kick 81% on the second eighth note of beat three of each bar. The combined effect allowed my drums to swing and gave my track the necessary foundation. 
From here, I used the ElectroKeys "Piano Destro" preset for the harmony, ElectroBass "P Bass" for the bassline, and ElectroGuitar "Classic Rock" 1960s Guitar to add texture. I recommend using the built-in effects on melodic instruments. I adjusted the reverb and the various filters on my piano sound to give it a hazier effect. There's also a good bit of delay on the guitar. Also, Zenbeats has built-in effects and you can use any audio plugins available on your device.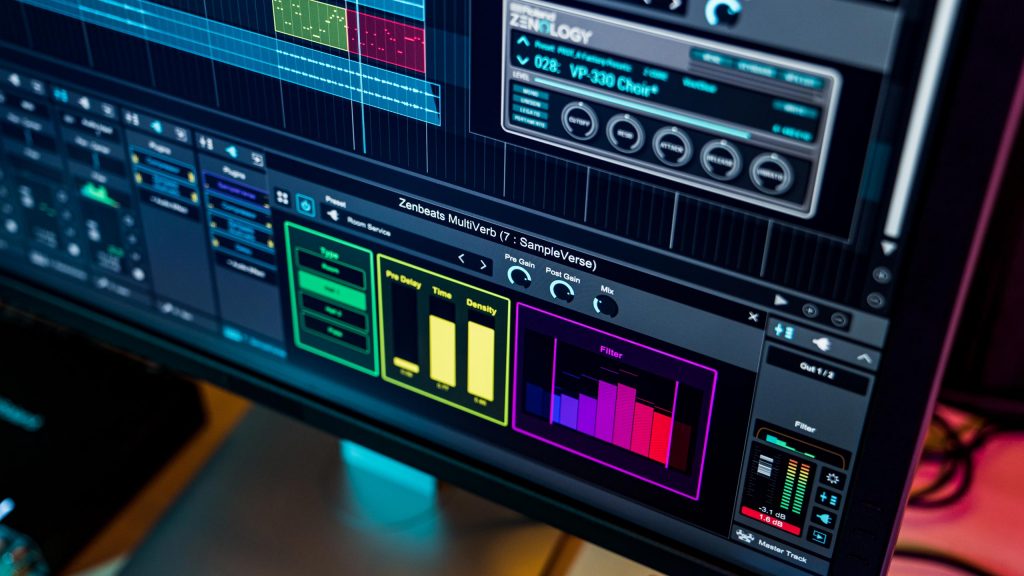 SampleVerse Vocal Drops
The last element I added to my lo-fi track was a sample of my voice which I made by using the SampleVerse instrument. SampleVerse arrives loaded with sounds. It also allows you to record a sound and turn it into a sampler instrument. This allowed me to create a few vocal drops during the beat. You can hear the results below: 
Trap, lo-fi—whatever style you crave. Endless creative possibilities are waiting when you dive into Zenbeats and Roland Cloud. Download Roland Cloud Manager today. You'll get thirty free days of the Ultimate subscription which gives you access to the plug-ins mentioned in this article. For more information on Zenbeats, sign up for a free online virtual lesson or check out or how-to videos here.