You might have heard someons say, "There's an app for that." When it comes to apps for learning the piano the options can feel endless. Here's a summary of some of the best apps for learning piano that your kids will enjoy using.
The use of smartphones and iPads has skyrocketed over the last decade. With that, apps for learning to play musical instruments are becoming common. As someone who started late, I would have enjoyed access to the sorts of piano apps now available.
While apps can make learning to play the piano seem easy, one app doesn't necessarily fit all. It's important to understand what sort of player your child is before selecting a piano app. Once you've got a sense of your child's style, review the apps listed below to help you make the best choice.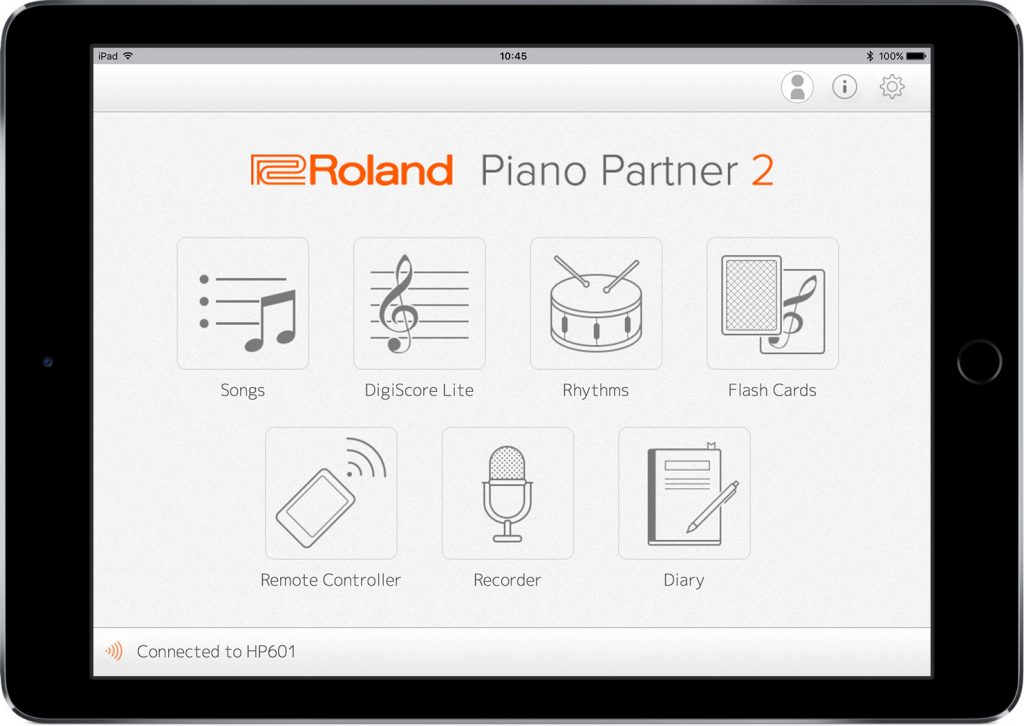 Roland Piano Partner 2
Since its 2016 release, Roland Piano Partner 2 has earned positive industry reviews. This is due to its multi-faceted functionality. Free for both iOS and Android devices, the app works with any Roland piano that's Bluetooth enabled.
Not only does Roland Piano Partner 2 provide an interactive way to learn, but it unlocks additional features. These include an enhanced user interface for your piano. Acting as a controller, it allows you to adjust settings and select instrumentation from your device.
The app includes onboard songs, complete with notation for your child to learn and play along. Build your child's note recognition with the flashcards. Or, let them loose on the rhythm section. This provides an entertaining selection of beats for users. Piano Partner 2 also has a Recorder and Diary function. It allows users to replay and check their performances and keep track of practice sessions.
Overview
Great with Roland digital pianos (Bluetooth-enabled)
Multi-faceted: songs with notation, flashcards for learning, rhythms, recorder, diary, also acts as a remote controller
Free
Piano Every Day
Piano Every Day is another Roland app. It's a great next step for more advanced learners or older children, as well as adults. Available on iOS and Android, it's intended for the Roland LX700, but users can apply it to other pianos. With the LX700, you'll enjoy the added benefit of being able to challenge yourself to learn onboard songs.
Like Roland Piano Partner 2, Piano Every Day comes with recording and tracking capabilities. A real benefit is its connection to Sheet Music Direct, the world's largest collection of online sheet music. Browse a huge range of classical and pop music songs and view the music scores.
Overview
Great for more advanced children
Access to a huge collection of sheet music
Free
Simply Piano by JoyTunes
Chosen as one of the best iPhone apps for 2016, Simply Piano is an easy-to-use app that works with any piano or keyboard. Additionally, it's excellent for beginners and assumes no previous knowledge. Simply Piano takes you through the basics, from reading music to learning to play with both hands.
In terms of songs, the app provides access to a broad selection. These popular and classic pieces will suit all musical tastes and playing levels. Your child can slow down the pace of the songs while they are learning. The app also offers personalized 5-minute workouts. They're great for children with short attention spans.
Overview
Great for beginners
Personalized 5-minute workouts
Free courses before subscribing
Reasonable subscriptions rates
Melodics
The Melodics app is perfect for older children who prefer contemporary sounds, have a strong ear, and are resistant to reading music. If your son or daughter wants to be the next John Legend or Lady Gaga, Melodics may be a good starting point.
As a desktop-only app, Melodics works with a MIDI keyboard. If your child prefers modern music, this will be a good choice. While Melodica won't teach your child to read music, it does offer structured learning.
You get a lot for the initial free download including 60 free lessons. After subscription, users gain access to exclusive lessons from acclaimed artists.
Overview
Good choice for older, more contemporary-minded learners
60 free lessons
Premium option
Yousician
Yousician is a fine all-round app for all platforms (iOS, Android, Windows, and macOS). Primary and older children will appreciate the visual interface. It makes reading music easy with hybrid, color-coded notation. Yousician includes thousands of songs, exercises, and lessons as well as video tutorials. The app listens and gives instant feedback. Users can also compete in Weekly Challenges for an interactive experience.
Yousician is one of the more expensive apps on offer. It has annual plans ranging from $120 to over $180 for the premium plan (USD). The app allows trying the premium version for free for two weeks.
Overview
For self-learners and professionals
Attractive visual interface with hybrid notation
Real-time feedback
Weekly challenges
In summary, there's no harm in trying a few apps before deciding on the best one. All the options above offer either a free trial or course materials even without subscriptions or premium fees. You may find there are many worthwhile piano apps different benefits. No matter which option you choose, remember to have fun.