UK-based Sonic State prides itself on providing the "first and fastest headlines from the high-tech music world." Founded in 1995, Sonic State is a network of web properties catering to electronic musicians. Its principal outlets include Synth Site, The Gas Station, and Sonic Studio. Over the past few months, their team integrated the Roland VR-1HD into its workflow.
For podcaster and Sonic State consultant, Gaz Williams, reliability and stability are essential to creating great video. The tools he chooses to use are key to his process. Says Williams, "The content I make for Sonic State revolves around the world of music technology. I use it when I take part in the regular podcast and videocast Sonic TALK." He also does video reviews of the latest music technology products.
A Fast-Moving Process
Even with a busy production schedule, Williams doesn't want to sacrifice quality. This is where the VR-1HD upped the game for him. "The VR-1HD facilitates me using a high-quality DSLR camera," William explains. "It's a big upgrade on the webcam I was using before." 
There's also the flexibility of switching between multiple cameras. "Being able to have three DSLR cameras connected, I'm able to create much more fluid presentations," Williams enthuses. He goes on to share how he makes use of this feature. "I utilize the auto switch functionality of the VR-1HD to create a dynamic presentation."
There are technical advantages as well. "It's far more efficient recording a single stream output than recording onto each camera's SD card and having to manually import them."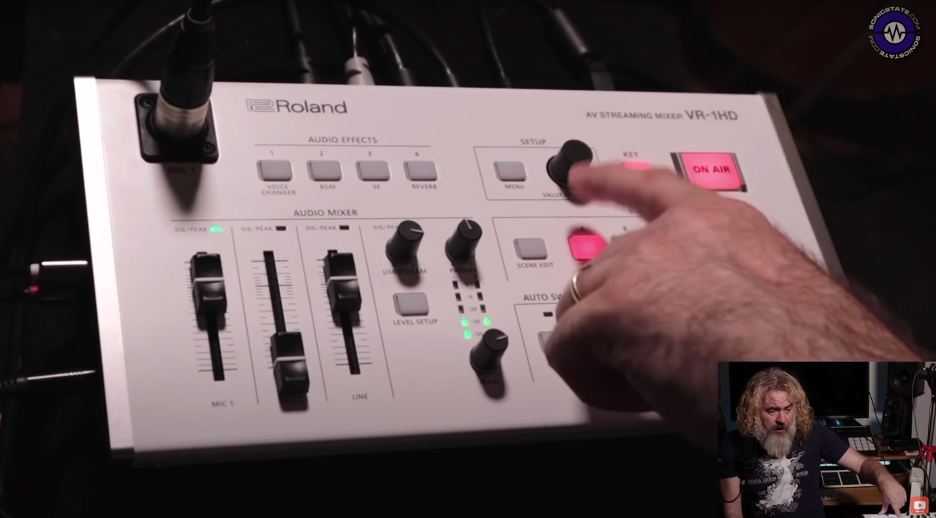 Audio + Visual for the Win
Besides its robust functionality, the VR-1HD lends a level of polish to visuals, which Williams finds refreshing. "The VR-1HD has great-looking video encoding. As a result, I spend less time color matching and dealing with other video quality issues."
Another common issue for video production is camera latency. Here, Williams is also impressed by the VR-1HD's ability to optimize for issues on the fly. "A huge problem solver is the way I can add delay to the audio to account for the inherent latency of the cameras. This way, I can make sure that my livestreams are in sync."
As a journalist in the world of audio, Williams needs great sound as well. He is quick to praise the audio benefits of the VR-1HD. For Williams, it's convenient. He likes "having a sub-mix from my mixer feeding the stereo inputs and also using the mic input along with its dynamic processing." In short, Williams explains, "It simplifies and centralizes my audio requirements."
Time is of the Essence 
In the fast-moving worlds of technology and journalism, time is always in short supply. This is the case for Sonic State, which has a prolific publication schedule. "Recording a stream without importing individual files, synchronizing them on the timeline, and editing shots is a time-saver," Williams says. In the end, the hours saved leads to a better experience for Williams. "It means I spend more time in the more enjoyable content creation and less in the laborious editing process."
There were also functions of the VR-1HD that surprised Williams, assisting production in unforeseen ways. "I love the way I can quickly create different scenes," he reveals. "The menu shortcuts have allowed me to set up bespoke picture-in-picture scenes rapidly." 
As a hardware reviewer, this feature comes in handy. "This is useful when I want to position my face camera in a region of the screen that's not eclipsing the piece of hardware I'm reviewing. I've learned to adjust these settings fluidly and feel confident about the results."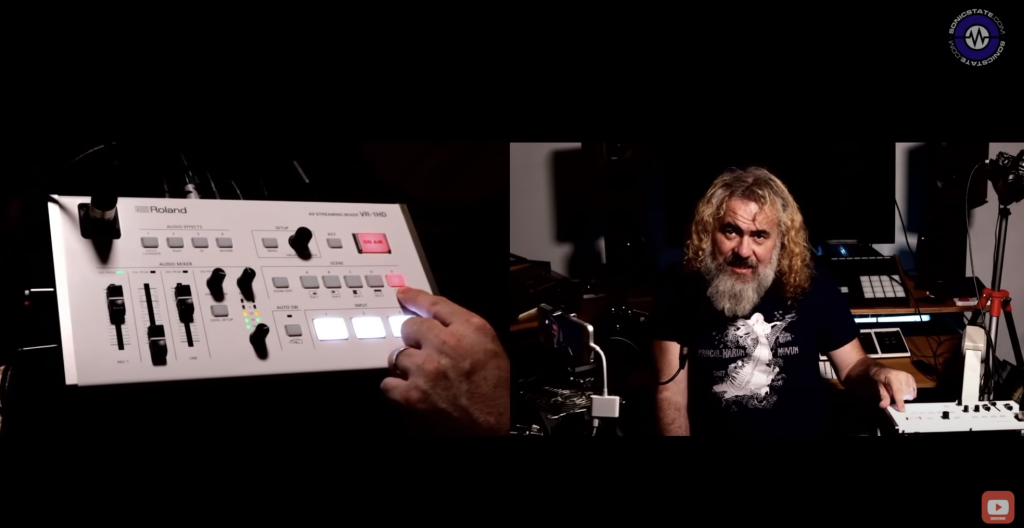 Polished Product
As a one-person operation, Williams looks for ways to enhance the professionalism of his output for Sonic State. "The picture-by-picture function has the added benefit of being able to store zoomed-in angles," he says. This feature leads to refined products. "I have been able to configure things, so it appears that I have more cameras on the shoot."
Williams can already imagine some future uses in which the VR-1HD might come in for Sonic State. "I'm intending on using the VR-1HD with more sophisticated live-streamed performances," he shares. "The auto-switching will be super-useful in this role.
Once live music resumes, Williams can imagine the VR-1HD being a powerful tool for capturing performances. "Due to the compact size and excellent build quality of the unit, I can see myself taking it with me to venues and using it to record shows."
In the end, for Williams and Sonic State, it's all about creating great content with speed. "I can focus on the musical performance and not worry so much about what the cameras are doing."