Three Bad Brothers
In the mid-'80s, there was little edgier in the mainstream than NYC's notorious Beastie Boys, and "Paul Revere" was their story set to a beat. Adam Horowitz (Ad-Rock), Michael Diamond (Mike D), and Adam Yauch (MCA) began within the hardcore scene, eventually gravitating to hip hop. It wasn't long before Def Jam Recordings cofounder Rick Rubin approached the fledgling Beastie Boys about producing them. 
Rubin's production instincts were crucial to the group's development. However, the inspired interplay between Ad-Rock, Mike D, and MCA defined Beastie Boys' sound. Their debut album, Licensed to Ill, went on to become the first rap album to reach the top spot of the Billboard 200 chart.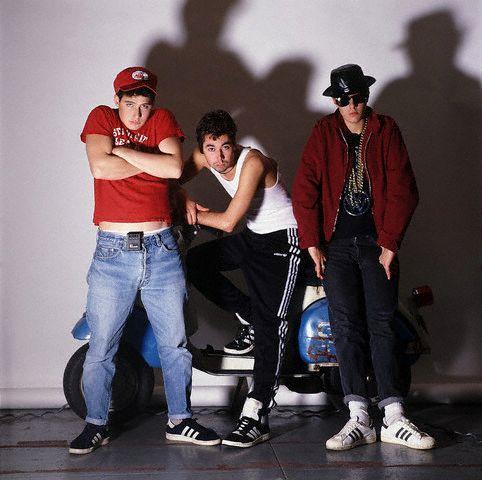 Had a Little Horsie
The minimal throb of "Paul Revere" by Beastie Boys still sounds like nothing else. Its nearly naked reverse 808 groove punctuated by a few horn blasts, scratches, and whip effects slyly referencing the title. Incorporating a sample from "I Like Funky Music" by funk act Uncle Louie (featuring Walter Murphy, best known for his iconic '70s instrumental "A Fifth of Beethoven") "Paul Revere" was so influential, N.W.A. even performed a bawdy version at early gigs.
Hip-Hop Origin Story
At its heart, "Paul Revere" relies on one of the oldest narrative tropes: the origin story.
The track is an imagined tale of how Beastie Boys first met. Riding through the desert on a horse with a name—in this case, one shared with the mare from the '50s musical Guys and Dolls—Ad-Rock meets a thirsty, threatening MCA and they pair up for further misadventures, adding Mike D to their troupe along the way.
Reverse the Beat
According to Horowitz, the saga of "Paul Revere" grew out of an anecdote. Joseph "Run" Simmons of Run-DMC arrived outside a recording studio to announce, "Here's a little story I got to tell." The lyric evolved into the hyperbolic western which eventually made the album. Simmons has a co-writing credit on the track, further evidence of the tight community surrounding Rubin and Def Jam.
Even with a pioneering producer like Rubin on deck, it was Yauch's ingenuity and progressive thinking that gave "Paul Revere" its trademark sonic signature. Listening to Diamond experimenting with a TR-808 drum machine, Yauch wondered what the song would sound like if they played the pattern in reverse.
Speaking to Rolling Stone in 2012, Diamond recalled, "Run from Run-DMC was there, and he was like, 'Man, this is crazy.' But Yauch recorded this beat, bounced it to another tape, flipped it around—this is pre-digital sampling—and bounced it back to the multi-track tape."
According to Diamond, the backward beat was more than an inspired addition—it redefined the track. "The reversed beat basically became 'Paul Revere.' Yauch saw this thing we couldn't see—and he killed it."
B-Boy Legacy
Beastie Boys went on to sell over 20 million albums in the US alone. Next, the released increasingly eclectic collections like 1989's sampledelic masterpiece Paul's Boutique and Check Your Head (1992) which introduced their formidable instrumental chops to the world.
They disbanded after Yauch died of cancer in 2012, the same year the Rock and Roll Hall of Fame inducted Beastie Boys. "Paul Revere," with the slippery groove Yauch constructed, remains one of their most effortless moments. In short, the song is a perfect lesson in hip-hop history and the power of rhyme.