Music City has seen significant changes over the years, mirroring the growth of its entertainment industry. Styles continue to evolve and influence Nashville's primary export: country music. All the while, the city's search for the perfect song remains as constant as a balmy Tennessee summer day.
The town represents much more than simply country. A true musical melting pot, Nashville is also base of operations for alternative icons like the Black Keys' Dan Auerbach and Jack White, whose Third Man Records is a popular music tourism destination. There is also a robust hip hop community, as evidenced by vets like Young Buck and Starlito, as well as the fast-rising Daisha McBride, also known as The Rap Girl on social media.
To celebrate the energy and resilience of the city, we spoke with a group of musicians who each contribute threads to Nashville's fabric. These unique artists provide a sampling of the diversity that makes Nashville a creative hub. From recording whizzes to live ringers, each voice represents a different side of the Nashville experience. All have cultivated deep ties with their audiences, their music, and their town. These are their voices.
Tim Lauer nursed romantic notions about recording studios from a young age, many of them drawn from inside record album sleeves. "There were these great pictures of people in the studio with paneled walls, curly cords, and headphones." In those early days, Lauer's focus was drumming. "I had been a drummer all through middle school and high school. In my locker, I had a poster of Steve Gadd playing black drums with black drumsticks."
Big Break
After initially venturing to Nashville to pursue string arranging, he increasingly focused on keyboards. A last-minute request led to Lauer picking up a chance gig playing piano at the Grand Ole Opry. His professional trajectory moved with speed—taking Lauer from rodeos and county fairs to a spot in Trisha Yearwood's band to the recording studio.
Lauer's multi-instrumental chops and ability to play for the song made Lauer an easy fit for both sessions and live work. His intuitive playing led to studio work with everyone from The Civil Wars and Cheap Trick to Blake Shelton and Taylor Swift Paisley.
Songwriting 
Lauer also began to cut his teeth as a songwriter, landing a pair of publishing deals. While mainstream country hits eluded him, one of his publishers sent him overseas to write. It was from that trip that Lauer began to see some wins. "I got an ad out of Turkey and the winning song in the Eurovision song contest," he explains. "My publisher said, 'Don't change your ammunition. Change the target.'"
Bolstered by the international nods, his music found successes in the world of synch and licensing, including placements on shows like One Tree Hill and True Blood. In recent years, Lauer has made a name for himself as a go-to arranger, producer, and musical director on shows like Nashville, Patsy & Loretta, Greenleaf, Tell Me A Story, and the Netflix comedy Country Comfort.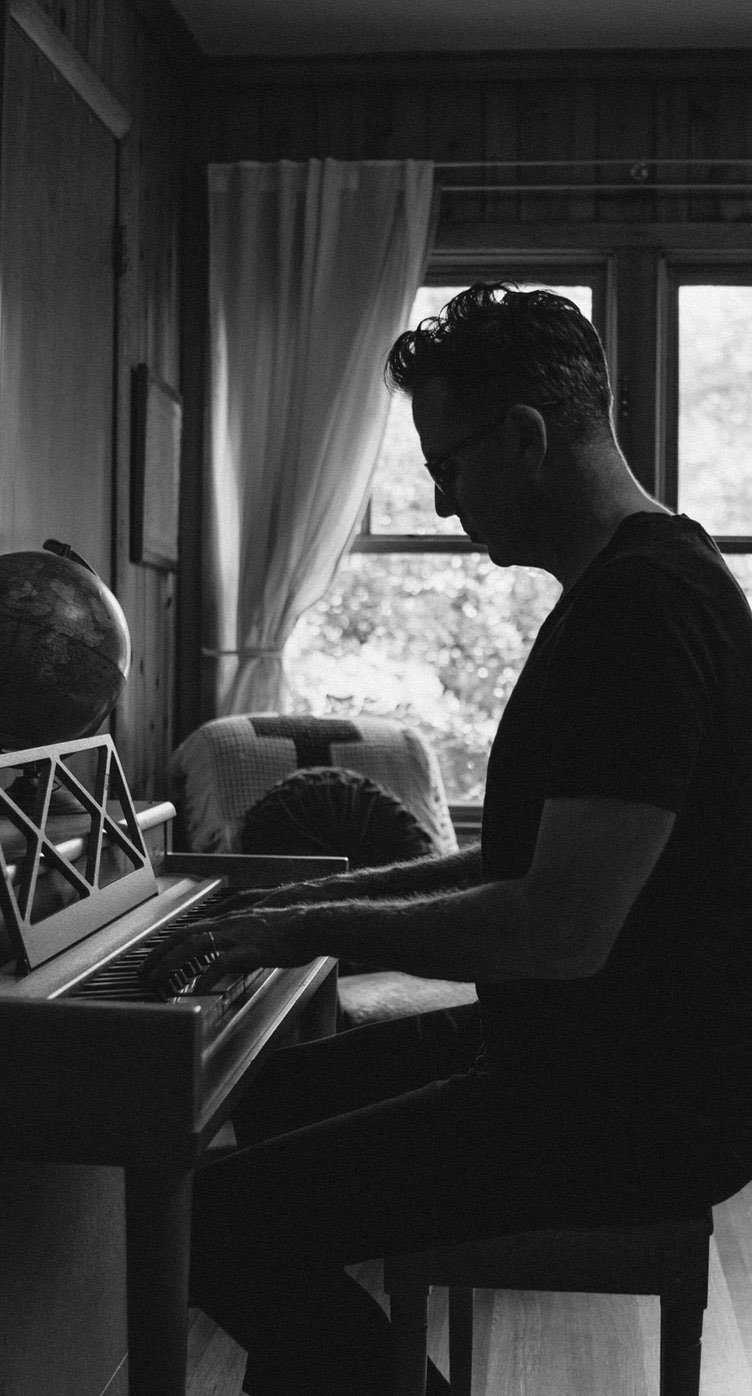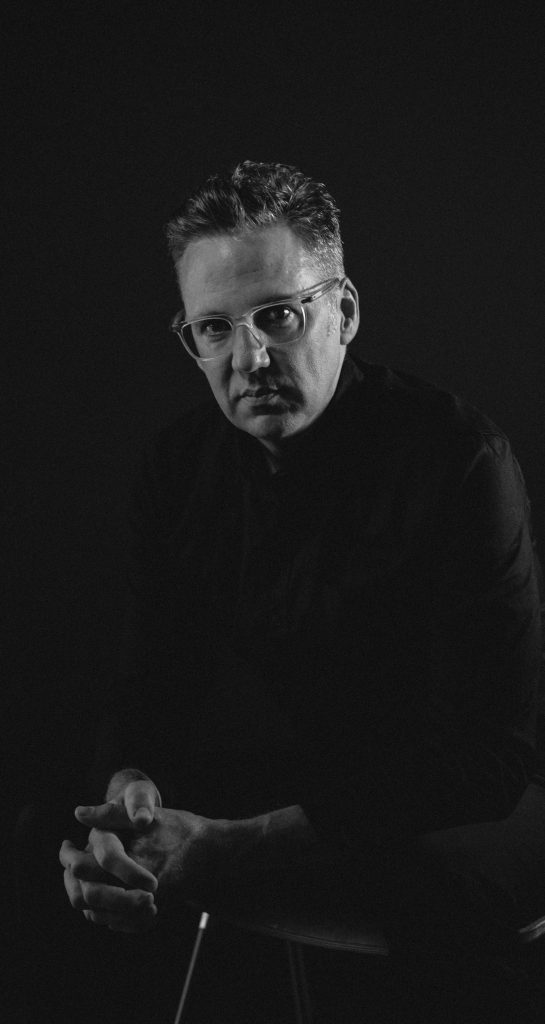 TV and Film
Of the cultural phenomena-Nashville, Lauer says, "I started producing Connie Britton, who played Rayna and some of the guest artists, maybe a song every other episode." This led to him taking the Executive Music Producer seat previously held by T Bone Burnette and Buddy Miller. For a spell, he helmed two shows. "Greenleaf was very similar to Nashville, in the songs are baked into the storyline." 
Working on vocals for songs to be used on TV provides unique challenges. "We always do the vocals with three mics: a high-fi mic, a dynamic mic like an SM7, and a shotgun mic. That way we can match the sound of studio recording, live gig or in the room."
Recording Players
These types of accommodations extend to recording live players as well. "Songs come around and get used another way. You need a lot of flexibility to turn the songs into a soundtrack or a club gig or a stadium gig or a rehearsal. We try to have plenty of sonic options to match the music."
A longtime devotee of Roland and BOSS hardware, Lauer's collection is rich with examples of gear. "Maybe it's just the history or that I learned on the stuff. I also find that the Roland stuff just works well with guitar-oriented music," he explains.
Despite his impressive accolades and discography, Lauer insists he still thrives on the challenge each project brings. "I always like to be scared. For me, the worst thing is to be doing something that I feel completely comfortable and confident in doing," he laughs. "The most exciting is when I just feel like there's no way I can pull something off. If I think I can't meet a deadline, or I don't know what I'm doing, or people expect more than I can deliver—that's really fun to me."
Musicians can work their whole life for that one big break and still have it arrive when they least expect it. Mitch Parks was already a full-timer. His career milestones include a lengthy stint with songwriter Matt Maher as well as years on the road with his Grammy and Dove-nominated act, After Edmund.
Getting the Call
When Parks got the call to play a few shows with Lennon Stella, an up and comer known mostly for duetting with her younger sister on the show Nashville, he didn't know where it would lead.
"In November of 2018 I was out on tour, when I got a call from a guy who was helping to put the band together," he says. "I was ready to come off the road for the year, but I called my wife and said, 'There's this other thing. What do you think?' She talked me into it so we could have some extra Christmas money." He laughs, remembering the fortuitous conversation. "I checked the dates and it was like magic or something. Literally, every day lined up with my existing tour schedule. It seemed like the stars aligned."
Out With A Rising Star
Even on that initial run, it was easy to see Stella's profile rising. "We did a show at Basement East in Nashville and two shows back to back in New York at the Mercury Lounge. When we played Troubadour in LA, John Mayer was there." Again, Parks seems tickled by the recollection. "I was looking around the room thinking, maybe this is more than just earning some holiday money."
Coming from a musical family, Parks certainly knows a good gig when he sees one. "My father was a Dixieland jazz musician," he explains. "He played trumpet and piano for my grandfather, who owned a nightclub in Pascagoula, Mississippi."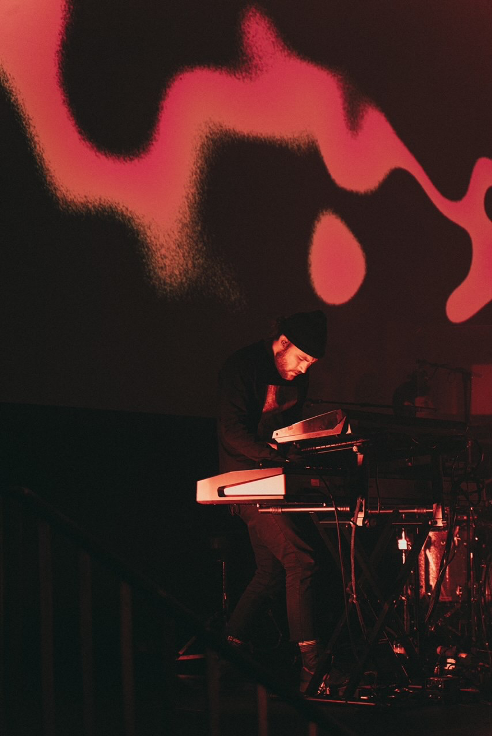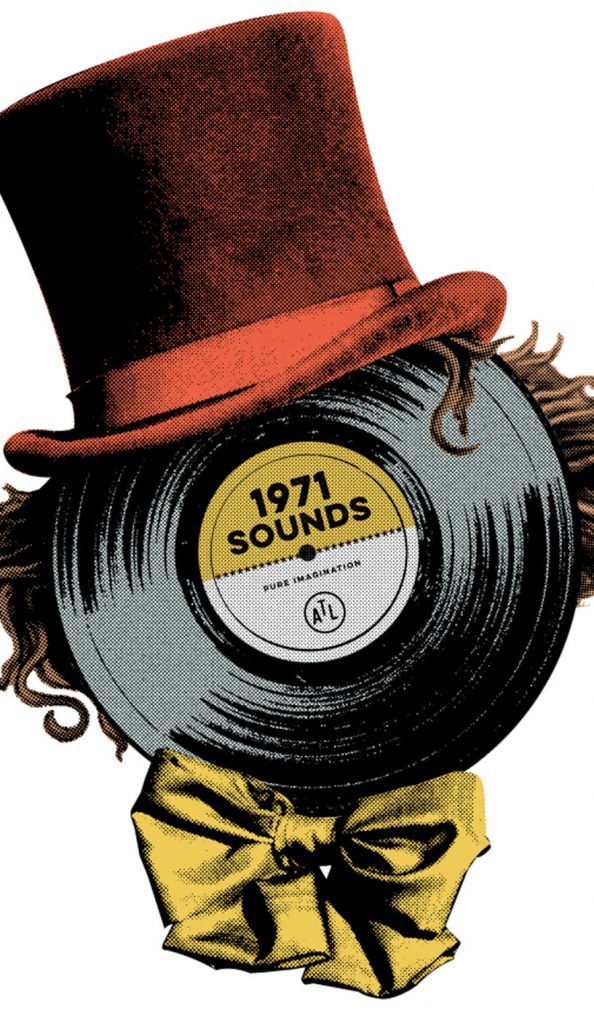 Juicy Chords
This may have led to Parks' appreciation for the richer chord voicings like those in "Golf on TV," a track Stella wrote with JP Saxe. "The chord structure is so juicy and nice," he explains. "I love that JP comes from a jazz background and all the chords have at least like two or three extensions. It's so fun to play"
Another favorite to play live with Lennon Stella is a song called "Breakaway." "For keyboards, it's probably the most the most tech-intensive song in the set," he laughs. "There are six or seven different sounds that happen on that one."
Meanwhile, Parks sounds downright proud of the way Stella has come into her own onstage. "I've watched her fully step into becoming a solo performer," he says. "She's quickly become a force to be reckoned with, especially on our most recent tour in Europe. That's actually been the most special part." His collaborators continue to grow and earn accolades. Both Lennon Stella and a Parks-produced album by Matt Maher album took home Juno Awards this year.
1971 Sounds
In addition to his extensive road work, Parks is co-owner of a recording studio, 1971 Sounds. "We never intended it to be a commercial space," he laughs. "An artist called and asked 'How much to rent out your studio?' I was like, 'I don't know, because I haven't done that.' But it sort of turned into that."
One piece of gear that has a particularly sentimental backstory for Parks. "In 2002, I was learning to play gospel organ at a church in La Grange, Georgia. I would play with them on Sundays and the church never could pay me. Instead, they gave me a keyboard that had been in the closet. It was a JUNO-60." Parks' voice speeds up, still energized by the memory. "I got back to the house I was renting with some bandmates, plugged the thing in, and just flipped out. My mind was like, 'This is the sound of so many of my favorite records.'"
On the topic of favorite records, Parks recalls one obscure album which made an indelible impression—without any synthesizers on it. "My dad showed me a jazz album called The Golden Horn of Billy Franklin. and I can remember every square inch of that record." The sound is still vivid in his mind.
"That record was like my world."
Some bands are more like kin. So it goes with Jason Isbell and the 400 Unit, the Nashville-based group which built around the achingly melodic, humanistic songs of its leader. A member of the 400 Unit since 2007, Derry deBorja watched the group grow from cult status to its current place at the forefront of Americana. The group's chemistry is unique and speaks to thousands of shared hours onstage.
"There's a language and a dialogue that developed between us," deBorja says. "We all seem to know when to step forward or step back in relation to each other. That's the most rewarding thing about playing with the same group over a period of time."
Synergy Through Listening
The group achieves this synergy through active listening, something deBorja began practicing at a young age. He explains that, "I just absorbed whatever was around me, a lot of which was what my brother listened to. He was six years older than me." Having an older influenced deBorja's burgeoning tastes. "I wasn't listening to typical children's nursery rhyme kind of stuff. The first record I picked for myself was Ghost in the Machine when I was six."
Following his childhood in Baltimore, deBorja went to college in Washington DC where he stayed for a time after graduating. He's quick to praise DC as a musical hotbed. "The music scene was very much alive there—all kinds of musical ideas of traditional and experimental were being tossed around," recalls deBorja. "A lot of times that was all happening within blocks of each other."
Years of cutting his teeth led to a big break for deBorja, when his first serious touring act, Canyon, caught the ear of Jay Farrar of Son Volt. The group ending up serving as a backing band for the Americana pioneer.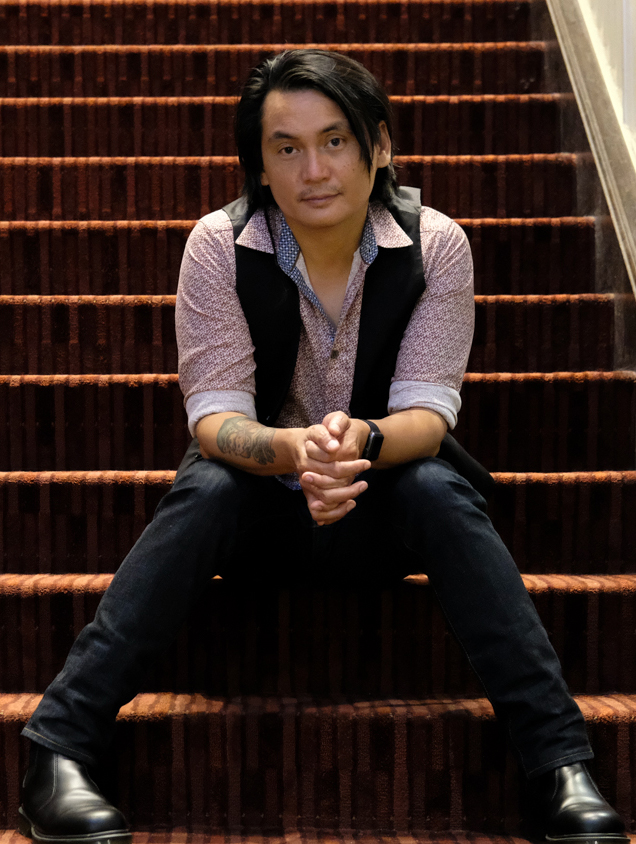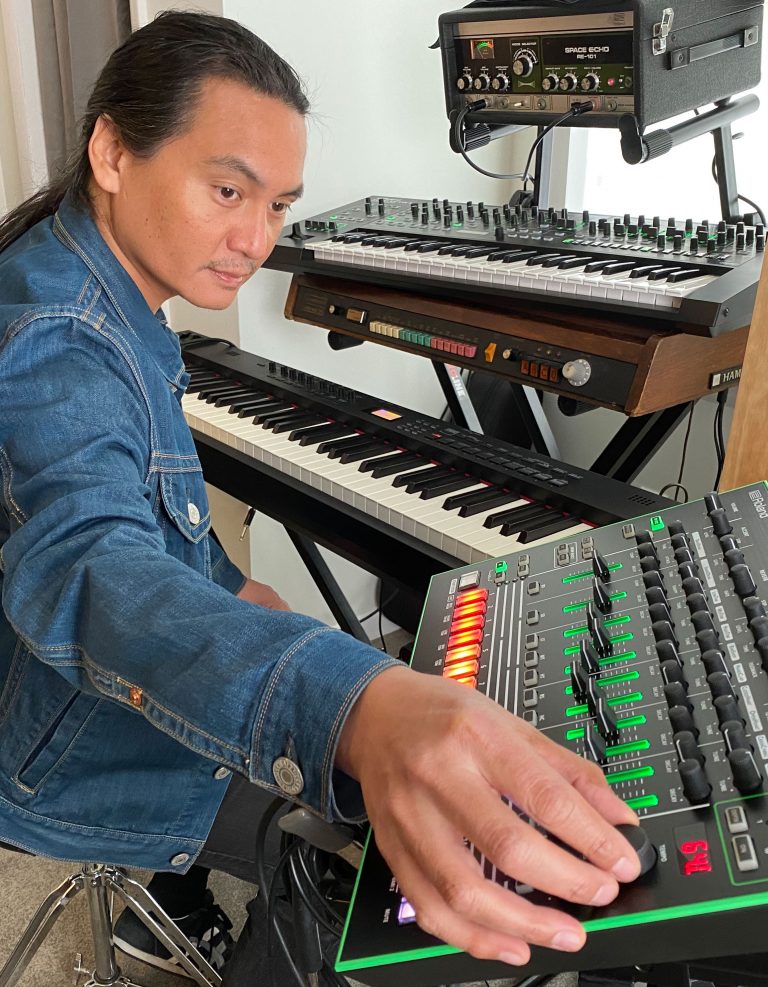 Road Lessons
Those road experiences with Farrar were an essential steppingstone which led to his current gig. Speaking about Isbell's, deBorja's respect for his current bandleader craft is palpable. "He's a great songwriter and arranger. Then there are little tweaks that we all make as a group."
According to deBorja, there is increasingly more room for players to experiment in Nashville's ever-widening mix of styles. "I think people now are looking for more interesting sounds—things that stand out," he says. "When I have the time here in Nashville, I do studio work. It used to be, 'Lay down some piano, lay down a Wurlitzer, maybe some organ tracks.' Now people want something out of the ordinary."
Serving the Song
As a member of a band that logs so many days on the road, do the songs differ end up differing from their recorded versions?
"They do change a bit," he acknowledges. "I feel like the record is quite a different experience from what we do live. The records are more like a document of where the songs were—they're not an endpoint."
Nevertheless, like Nashville itself, at the end of the day, it's all about the song. "There's so much sonic territory covered by two guitars in a rock band," deBorja says. "You just remember that you're serving the song and play with that in mind."
Genres blur during a Florida Georgia Line set. The band is known for its energetic amalgamation of styles, fusing soulful grooves with down-home twang. Music Director Aaron Farmer agrees. "We can go from something like "Round Here," which is the ultimate country banger, to "Talk You Out Of It," a sexy song that could be done as R&B or country."
An Evolving Role
Further expanding the stylistic range of the band, is Farmer's background. His mainstream sensibility—culled from work with Nick Carter (Backstreet Boys) and Nate Ruess (FUN.)—has shaped Florida Georgia Line as a live band. "The role is evolving and changing. In this organization, there admittedly hasn't been a Music Director who thinks like a pop Music Director," says Farmer. "I think we'll see something fresh from the guys."
Farmer's life story might give a clue to his comfort across so many styles. "I'm a military kid—born in Italy, kind of raised all over the place," he says. Still, Nashville has been home for a long time. "I had a grandma and uncle who lived here. After my father retired, we ended up here. It was a good fit for him. "Nashville is very familial in a way that I haven't seen in other cities."
Genres Blur
Something else that must be experienced to be understood is the energy of a Florida Georgia Line concert. "It's awesome. A Florida Georgia Line crowd is a lot like the band," Farmer enthuses. "You see super country people who come from the backwoods and drove hours to see the show. Then there are city folk, people who are into hip hop. We've had NBA players even."
Additionally, there is a fiery aspect to the band's performances. Literally. "There are fireworks. There's video content. There are laser beams. With all the pyro in our set, I need Roland gear. It's the only hardware that's sturdy enough."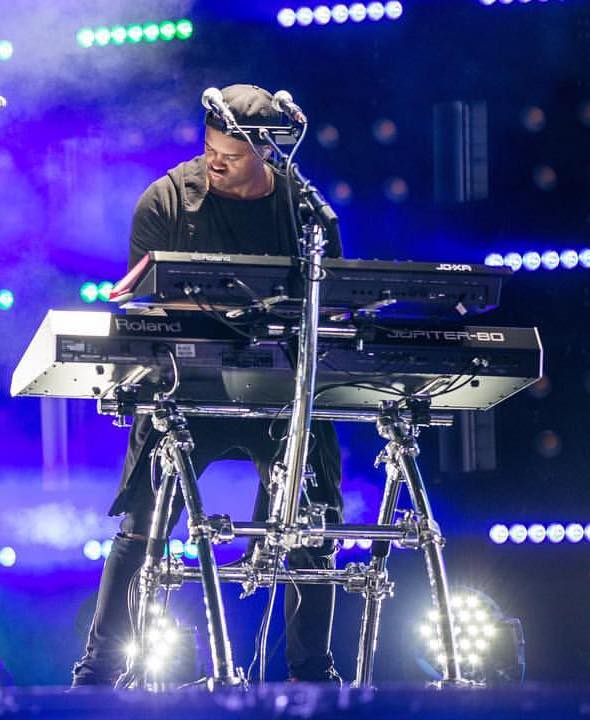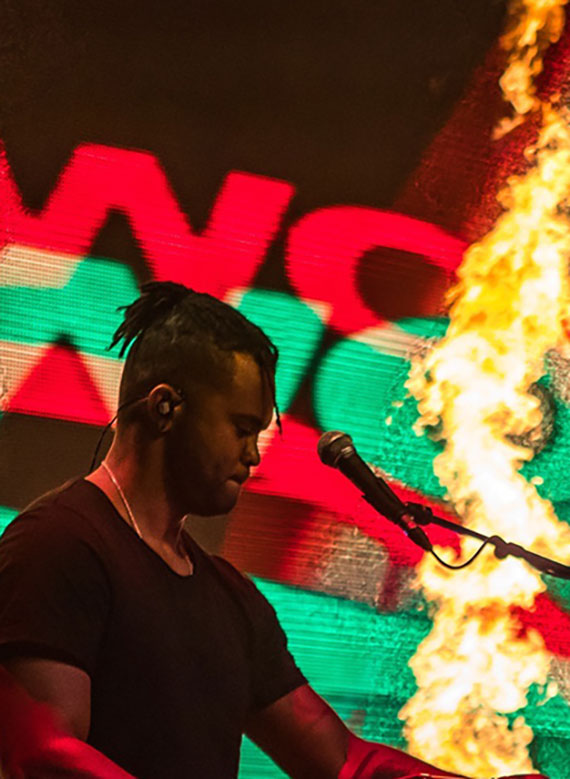 Built to Last
Like his live rig, Farmer is built to last, even during tough career moments. "Before I got the gig I'm on, there was a period where I couldn't get work for years," he admits. "I was afraid and started looking for other options." He persevered, finding solace in his craft. "Music is who we are. I would still come home and create. Learning the ins and outs of programming has turned into something very beneficial to me today as Music Director."
Florida Georgia Line is a people's band, an attitude Music City nourishes. To Farmer, Nashville is a city where a down-to-earth attitude is as commonplace as great players. "This is a big songwriter town, so the craft is the focus. It's not grandiose," he explains.
Creating a Spectacle
On the other hand, the shows are all about the power of spectacle. "It's epic. They want to give you a moment that memorable and bigger than life." Farmer expands on that idea: "People are paying hard-earned money and we are going into this tour season knowing that people have been quarantined. We want to give the fans the best experience that we possibly can."
There's another layer too, one that speaks to people's giving nature. "Tennessee is the Volunteer State, so everybody has each other's back. People who play music are willing to help each other get that leg up."
Despite challenges in the world, music remains a constant source of inspiration. "This is our gift," Farmer says. "It's how we communicate, how we mourn, how we celebrate."
Grammy-nominated producer-engineer-musician Bobby Holland (Kesha, ZZ Ward, The Daybreaks) calls himself "one of the lucky ones." After receiving a Muppet Babies keyboard on his fifth birthday, Holland "knew in that moment what I wanted to do for the rest of my life." He shares his thoughts on his hometown, production, and staying positive.
On Positivity
"I love this positivity stuff and practice it daily. I'm actively looking for the things I love in my life focusing on those and putting that directly into my creative zone. I haven't felt this creatively explosive in a long time."
On Production
"As a producer, it's my job to get artists to bare their souls. To do that I have to bear mine."
"I like making indie records for passionate artists and making a band's first records—when nobody is breathing down your throat to follow anything up, when the creativity is unhinged.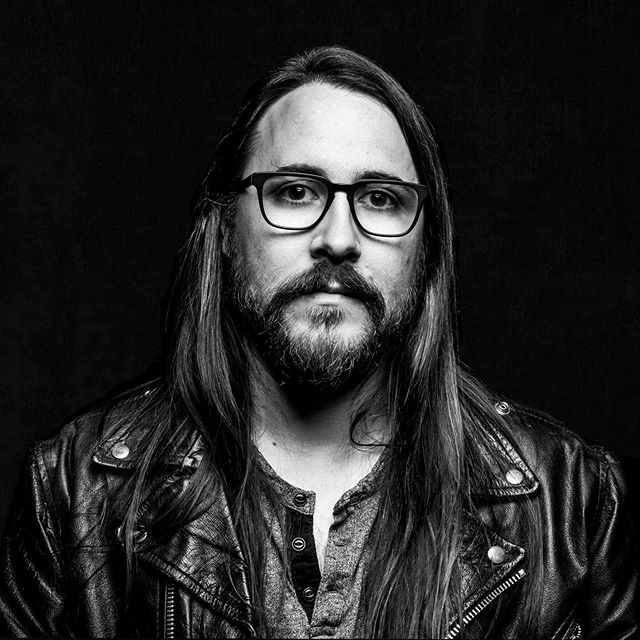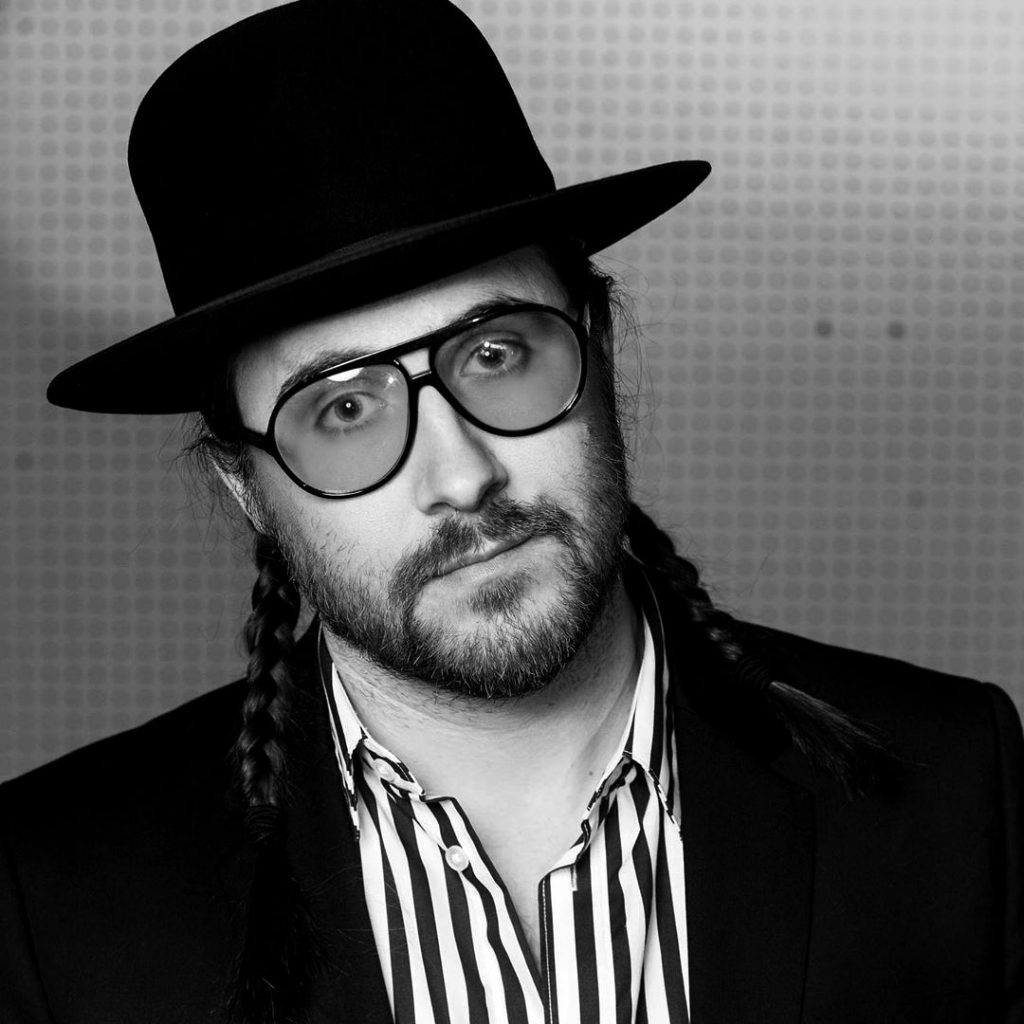 On Making It
"My slogan is 'Be nicer and work harder than anyone else and it'll work out.' Talent is important but there are infinite talented people. In Nashville, there's somebody better than you in every room. Once you're good enough, the rest is being a good hang."
On Nashville
"There may be a bit of a misconception about Nashville. Certainly, there are a million country and Americana artists here, but it's not all country. Country is just the most in-your-face. Nashville has a very large pop and rock community. It just doesn't get looked at like Brooklyn or LA."
Daisha McBride is a Nashville hip-hop artist with a dynamic career. At only 24, she's already made an impact on her adopted city through a prolific string of releases and increasingly high-profile collaborations.
She's also not afraid to share her truth. "I'm pretty much an open book," says McBride. Read on to get her takes on everything from choosing Nashville over Atlanta to making music in quarantine.
On Growing up in Knoxville:
"Knoxville was interesting. My parents moved there because they both went to grad school there, but my family is originally from deep, middle-of-nowhere, country Mississippi. I spent a lot of time there growing up.
Growing up, I played the violin and sang in my church choir. I didn't get exposed to hip-hop until I went to Mississippi during the summers and I'd hang out with my older cousins who'd bump trap music. In the backseat, I'd be going, 'Wow'"
On Becoming "The Rap Girl" on Social Media:
"The high school that I went to had like 3,000 kids. You'd know people, but not know their name. Most of the time it was like, 'You're the girl who's always rapping—the rap girl.' As a joke, I changed all my social media names to The Rap Girl. After graduating from high school, I went viral during my first semester of college. It had a cool ring to it, I guess."
On Choosing Nashville for Her Career:
"Growing up in Knoxville, Nashville was always the cool place in the state, but I hadn't spent much time here. MTSU exposed me to the Nashville music industry and music community. I realized that Nashville, LA, and New York are three prime music cities. There is a lot of culture here that's not mainstream, plus this is where all the songwriters live.
When you think of hip-hop, you think of Atlanta. A friend and I graduated at the same time, and he moved to Atlanta to pursue his music career. He told me how over-saturated it was. I didn't know a lot of female rappers in Nashville, so I decided to go for it. It feels like I'm where I need to be."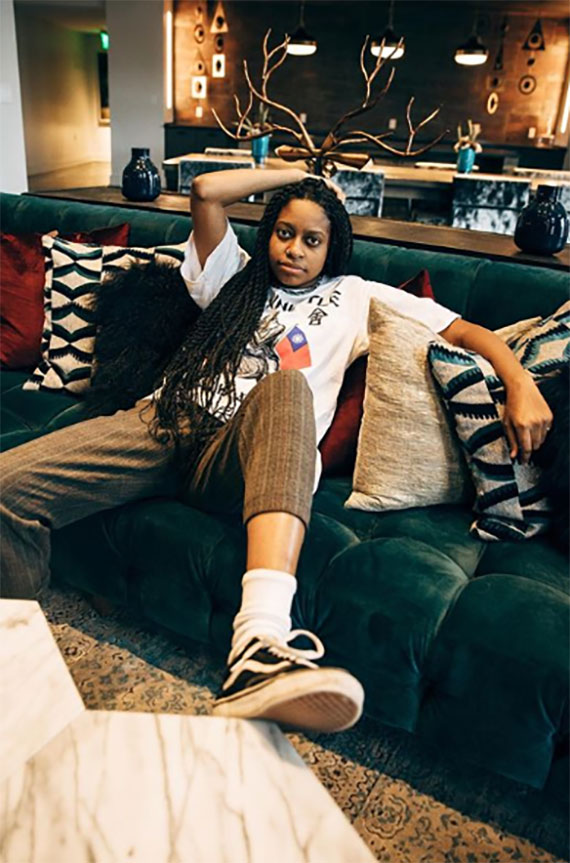 On Country Collaborations:
"Growing up in East Tennessee, before my cousins put me on to hip-hop, I listened to John Mayer and Rascal Flatts. Two years ago, I did my first country collaboration and I just did a song with Grayson Rogers called "First Light." It's sick. We did a full music video. I know a lot of rappers around here who would be like, 'Nah.' For me, I can pretty much hop on anything and make it my own."
On Mastering Social Media:
"It's just me being a Millennial—or a Millennial-Z. I'm on the cusp—knowing how to tweet, how to post. There was a time when I tried to make my videos flashy. Now, if there's a video of me with my phone, rapping over a beat in the background, it does better than making it all professional. It's about being authentic. People can tell when things are staged, too polished. They like organic stuff."
On What it Means to Be Wild:
"Wild is the first project where I was conscious about the songs I was making and put a lot of thought and effort into them. I call it my baby. The name, Wild, actually stands for "While I Learn and Develop." There are the slower ones that are more intimate, then you have the turned-up ones. I wanted to show I could do a lot of different styles. Also, if you know me, you know I always like to be outdoors."
On Creative Evolution:
"My next EP is called YAFEELME. I feel like my brand is changing a little bit. With YAFEELME, I've done some growing up. Everyone I've played it for is like, 'This is 2020 Daisha.' I'm at a point where I'm being real. I'm an adult."
On Trusting the Process:
"I used to just write to beats, but with Wild and all the tracks since then, the process is way more intimate. I have two main producers, Big Bruno and SCi-FY, but we all work together. The three of us sit down and it's like a therapy session. While they create, I'll be on the couch with my phone working on lyrics. I don't do the notebook—I think faster than I can write. On my phone, there are like 2000 notes, all in the cloud."
On Getting a Nod from Missy Elliot:
"There was a challenge to rap over a Missy Elliot song. Once I posted it on Twitter, she followed me. I DMd her to say thank you for the follow and tell her she's a queen. She replied and said, 'You're so dope.' After that, I was like, 'You can't tell me anything now!'
The further I get in my career, the more I'm taking after what she did. For the EP that's coming out, the visuals are very different. That's inspired by Missy—her visuals are iconic."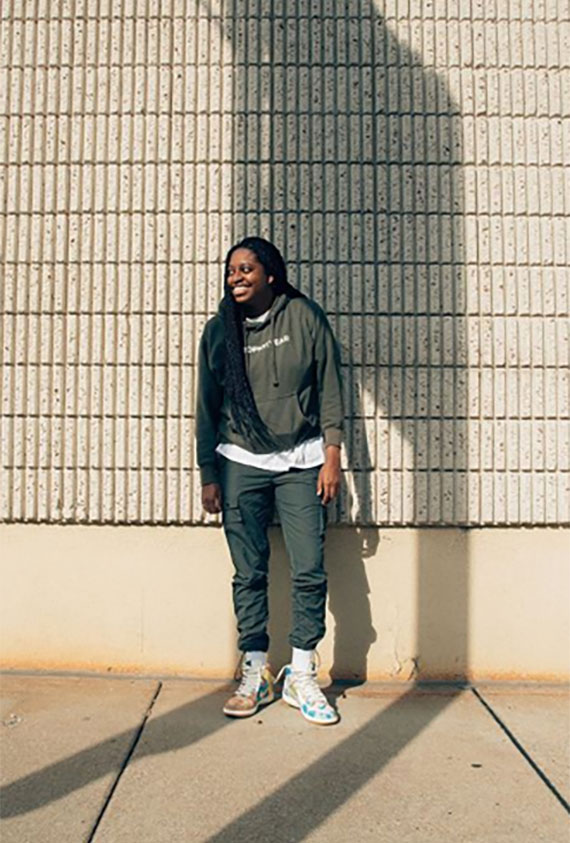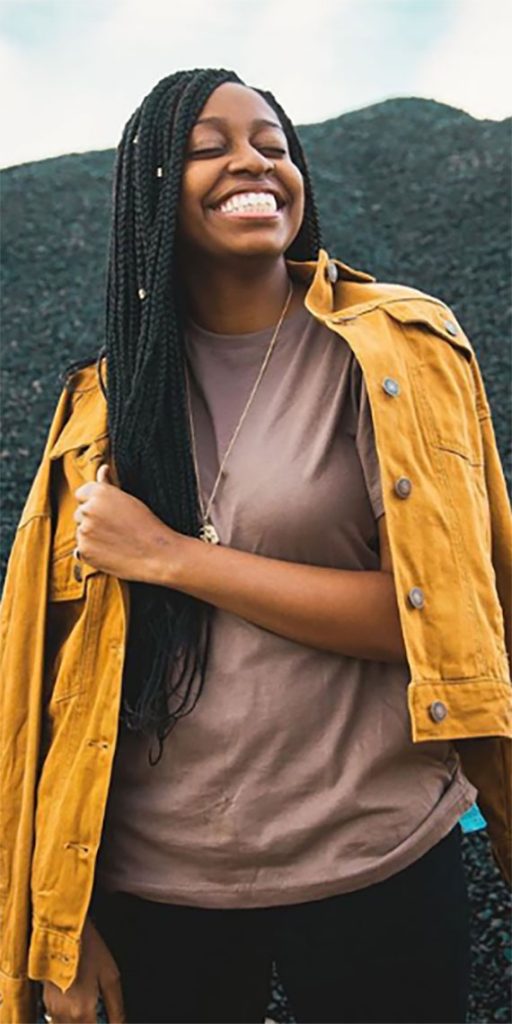 On Creativity in Quarantine
"It was an adjustment. Being grounded at home messes up your mind. I had shows booked from March onward in cities I'd never been to, so I was excited to do a bit of touring. During the first month of lockdown, my producers and I locked ourselves in the studio. I can say that the latest EP never would have come to fruition without quarantine.
I've also been able to do more songwriting, and that's turned into synch placements with Netflix. I got a song on a show called Trinkets, and there are other ones in negotiation."
On Racism, Civil Rights, and Change
"I never thought I'd see anything like this in my lifetime. My grandmother was a civil rights activist in Mississippi. She was a big part of getting the school system desegregated and has a lot of notoriety in her area. I never thought I'd see my white friends say, 'I had no idea this was going on. Will you educate me?'
It's progressive, but in the Nashville country music industry you still don't meet a lot of black and brown people. There have been situations, where I've met with labels and the receptionists will ask if I'm delivering food."
On Hip-Hop's Growth in Nashville
"When I meet artists, I tell them I do hip-hop, and some say they didn't know there was hip-hop in Nashville. Then they'll see my social media numbers and realize I'm not just a Soundcloud rapper. If I were a white female, I feel like people would take me seriously.
Last August, Red Bull came and sponsored a show with seven or eight artists, and we sold out one of the bigger venues in Nashville—all hip-hop. It was the first time that had ever been done."