It might surprise you to learn that one of the original engineers of Roland TR-909 is still active within the company. Meet Atsushi Hoshiai. A longtime Roland veteran, Hoshiai-san currently works in the fundamental technology R&D department. There, he is constantly on the hunt for the next technological innovation to inspire future generations of musicians and fans.
Hoshiai is not only active in technology research, he enthusiastically relays his skills, experiences, and knowledge to the new engineers. He also regularly teaches "heritage classes" in the company, enlightening the team about Roland's history.
A Passion for Invention
"I am just turning the ideas that pop in my brain into shape," says Hoshiai
In addition to playing drums since his teenage years, Hoshiai's passion for invention leads him to create unique devices. Take, for instance, this "Binaural Monkey," a toy monkey equipped with binaural microphones in its ears.
If you pet its head or scratch its ears while wearing the headphones connected to it, you'll feel as if you are being petted. Then there is "Autonomous Brush," a charming robotic anomaly, designed to delight.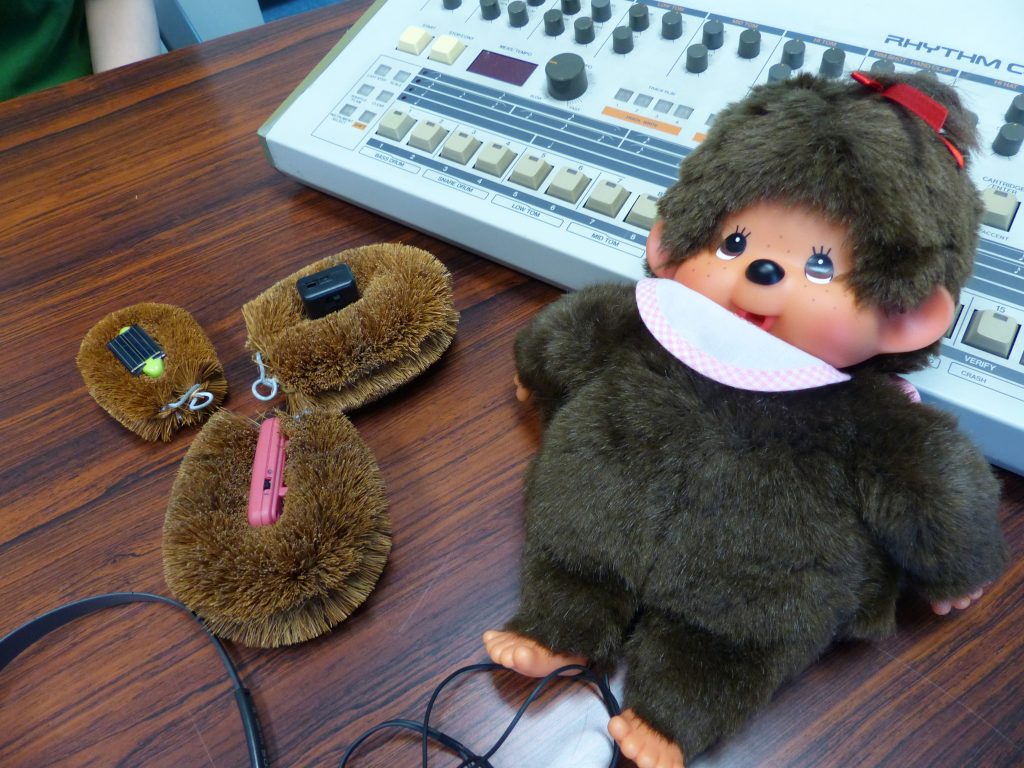 With a reputation as the TR-909 legend and those off-the-wall inventions, colleagues who don't know Hoshiai well may consider him a bit of an oddball. In truth, he is just an otaku (a Japanese term meaning geek, nerd, or superfan) for music and technology with a perpetual Buddha smile on his face.
His first encounter with music was at age five, listening to "Piano Concerto No. 5" by Beethoven, one of his father's favorites. In elementary school, Hoshiai crafted a radio by hand. The sound of "Nutrocker" by Emerson, Lake & Palmer playing through his creation blew the young inventor away.
Determined to have a career creating electronic musical instruments, after graduating from university he wrote Roland asking for a job opportunity. The rest is history.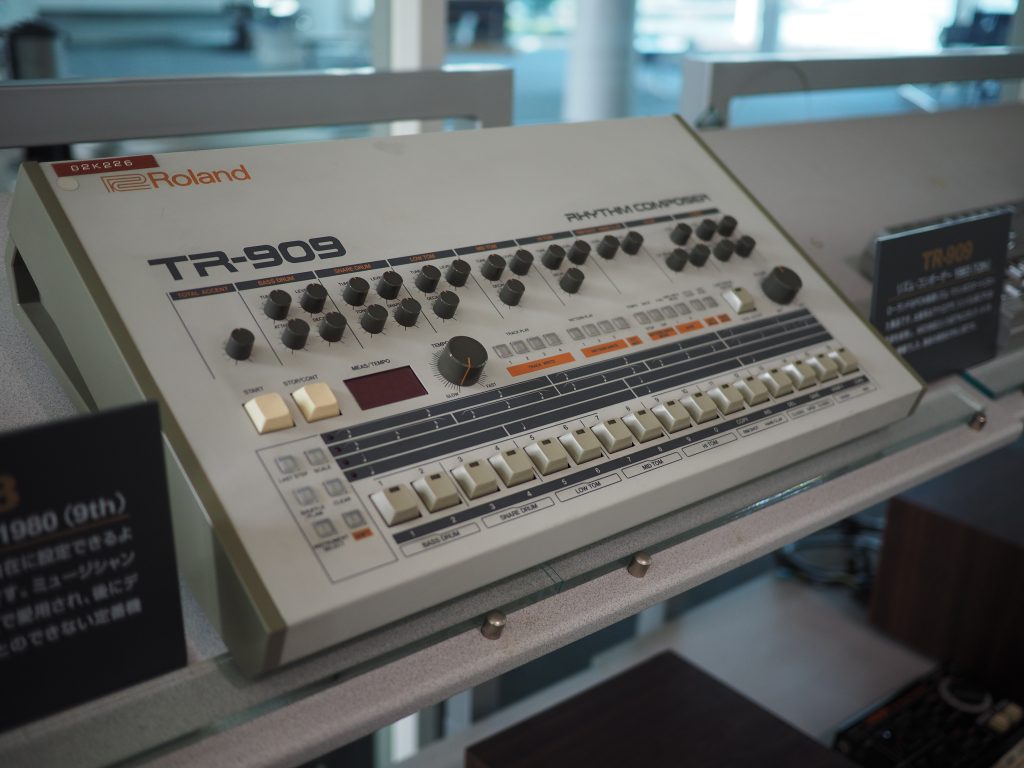 The New Employee
Hoshiai joined Roland in 1982. Immediately following three months of internship on the product assembly line and repairs, he received his first assignment: the TR-909. His role was to take care of digital circuits and programming. The team consisted of only two members: Hoshiai and the other senior engineer for analog circuitry.
One would imagine he got a little nervous as a greenhorn in the company. It seems Hoshiai took it in stride. "Well, I thought I could manage if I just did it," says the modest engineer.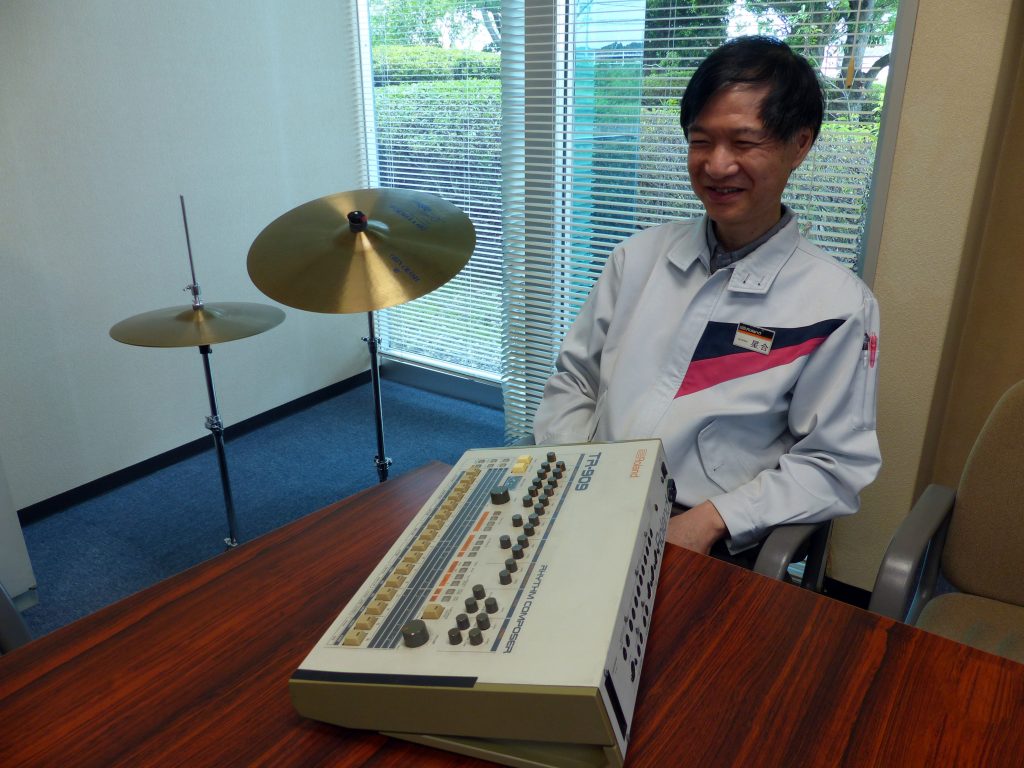 A Very Special Pair of Cymbals
In fact, Hoshiai played a pivotal role in the sound of the classic drum machine. His personal cymbal collection formed the basis of the 909's distinctive sound. As an acoustic drummer, his favorite hi-hat combination was a mismatched pair with Paiste on the top and Zildjian on the bottom. This was the tone he was looking for. With that in mind, he decided to sample them.
Although there was an in-house studio at Roland, Hoshiai found the results weren't quite right. In pursuit of his tone, he moved microphones around the office at night. Eventually, Hoshiai settled on a spot by a co-worker's desk. He sampled the hi-hats at 6-bit, giving them a crisp sound.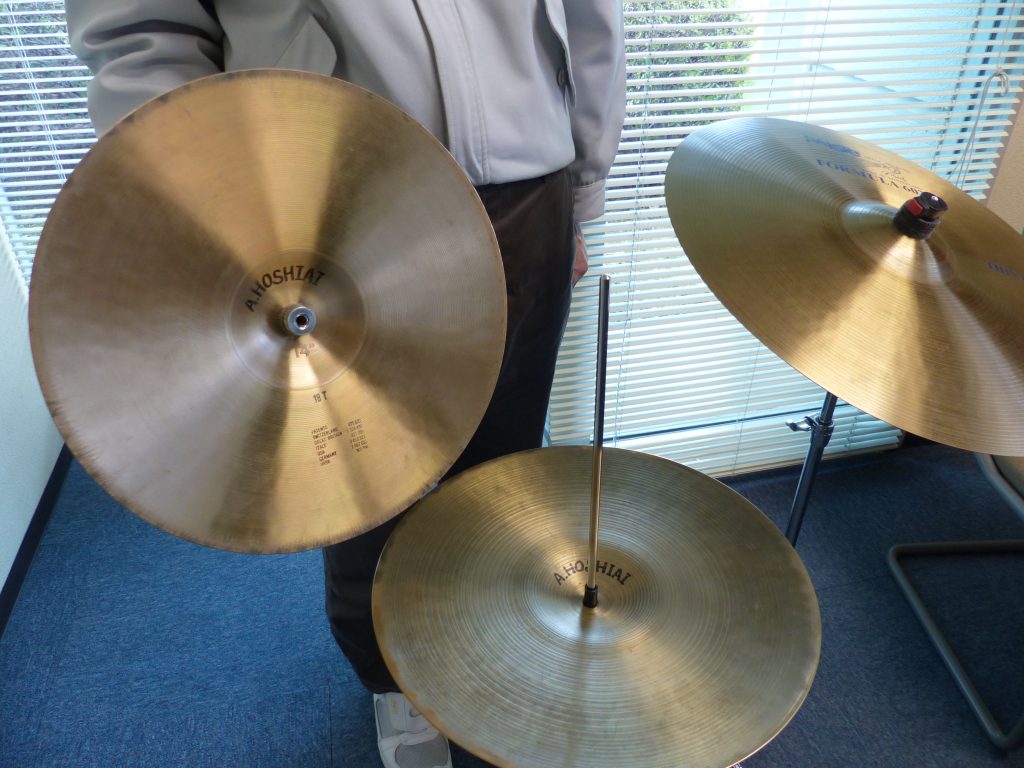 Next, he loaded the new sound in the test unit. At this point, a new issue emerged. There was a delay between hitting the button and the sound coming out. Says Hoshiai, "I could even feel the delay when I saw somebody else hit it and thought it was because of the attack shape of the waveform."
At that time, computers were a lot less flexible. To get the sound in his head, Hoshiai had to edit the waveform on his customized computer with a CP/M-80 operating system.
The Legend of the TR-909
During development, the team called the instrument the TR-880, then TR-880D (D for digital), then TR-909D, and finally the TR-909. Nowadays, it's difficult to imagine the drum machine as anything else.
When Roland launched the TR-909 in 1983 the company intended it to be a successor to the TR-808. Like TR-808, TR-909 didn't sell well at the time, with the complaint that "it didn't sound real." Of course, the TR-909 went on to reach legendary status. It appears on countless records—from Technotronic and Orbital to Mantronix and Madonna.
Ever philosophical, Hoshiai is even-keeled about the TR-909's lack of initial commercial success. "Was the model successful business-wise? I don't know," he remarks. "Somebody told me we produced about 10,000 units in total, though."
Unconcerned with the sales of the drum machine, his motivation during the project came for a different place entirely.
"I just thought we were making good sounds," Hoshiai says.